Thursday, April 24, 2014
---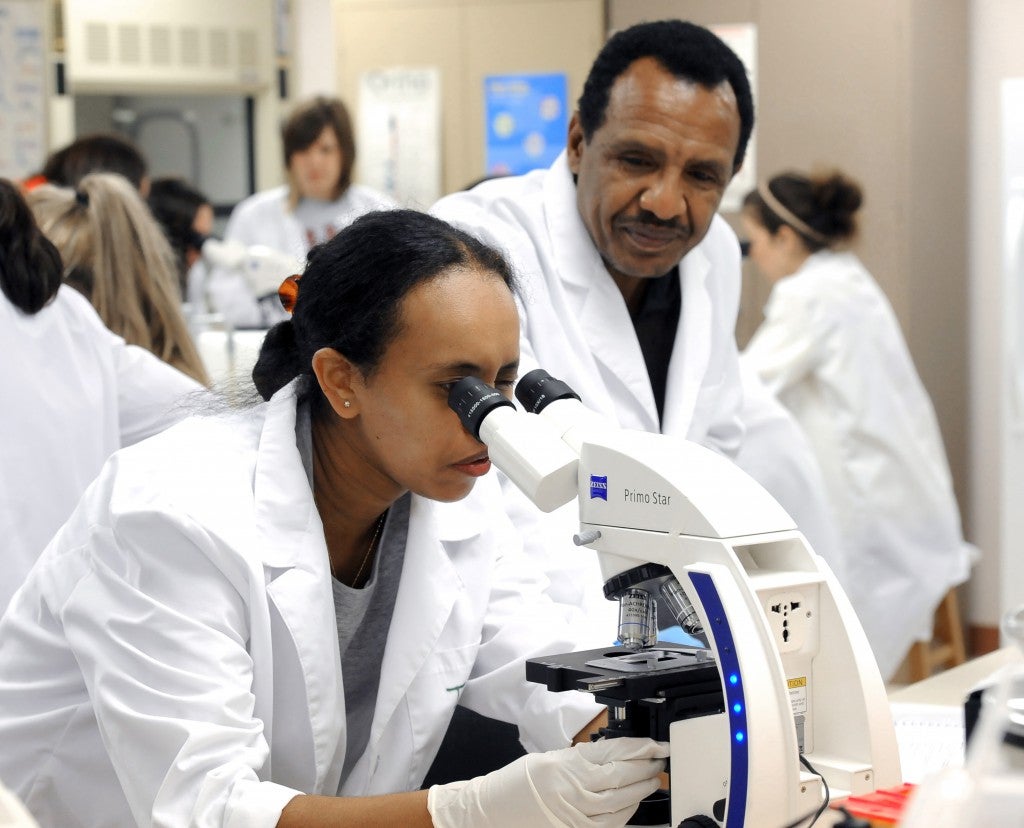 HUNTINGTON, W.Va. – Marshall University is part of a nine-university initiative to increase the number of underrepresented minority students studying in the fields of science, technology, engineering and mathematics (STEM).
A five-year, $2.5 million National Science Foundation grant will fund the Kentucky-West Virginia Louis Stokes Alliance for Minority Participation.
The partnership of higher education institutions is being led by the University of Kentucky. In addition to Marshall and UK, alliance members include the University of Louisville, West Virginia University, Western Kentucky University, Centre College, Kentucky State University, West Virginia State University, and Bluegrass Community and Technical College. The grant, which was announced last week by UK, marks the second phase of the diversity effort, which began in 2006.
With an undergraduate focus, the new funding will sponsor programs and initiatives at the alliance members' institutions to attract greater numbers of diverse students to the STEM fields, increase retention and graduate up to 500 students over the next five years. In addition, the alliance will seek out cross-institutional opportunities for students in undergraduate research and internships. The alliance has the potential to significantly impact the lives of up to 5,000 underrepresented undergraduate students in the two Appalachian states.
"Expanding opportunities that encourage diversity and inclusiveness is among Marshall University's foremost strategic priorities. The Kentucky-West Virginia LSAMP program serves as an important means for advancing this goal," said Marshall President Stephen J. Kopp. "In today's complex world, mobilizing and engaging the talents of all people is more important than ever. We are pleased to be a member of this alliance and look forward to working with our partners to attract, retain and graduate more underrepresented students in high-tech and high-demand fields."
UK President Eli Capilouto said, "The University of Kentucky is proud to lead an alliance of exceptional public and private colleges and universities in our region. The LSAMP initiative provides rich opportunities that we hope will excite more underrepresented students to explore, delve into, and thrive in academic and research programs in STEM fields. Their increased participation will stimulate and improve the alliance institutions' outcomes in disciplines critical to the future of our state, our region and the nation."
The alliance's specific goals include:
Increasing minority student enrollment in the STEM fields alliance-wide by 15 percent by 2016, with a 10-20 percent increase yearly thereafter.
Increasing the 4-5 year graduation rate for minority STEM majors alliance-wide by 50 percent or more and maintaining or increasing that rate thereafter.
Accomplishing these goals by the fifth year of the project will translate into 260 or more STEM baccalaureate graduates each year among the nine institutions.
The goals are ambitious, but alliance members plan to reach them with strategic recruiting and a focus on senior-year attrition. National studies show that underrepresented minority students enroll as STEM majors at the same rate as their counterparts, but graduate at significantly lower rates. The project leaders say that the key to retention will be providing timely and effective individual support and that they will be developing programs to provide that support.
The first alliance-wide conference will be held at UK during the 2014-15 academic year.
The overall aim of the National Science Foundation Louis Stokes Alliance for Minority Participation program is to cultivate a greater number of diverse students to successfully compete in the nation's STEM baccalaureate degree programs, and to increase the number of students interested in, and academically prepared to enter graduate study programs. The program defines under-represented groups as African Americans, Hispanic Americans and Native Americans.
---
Contact:  Ginny Painter, Communications Director, Marshall University Research Corporation, 304.746.1964