Thursday, Jan. 3, 2013
[social_share/]
Watch on HerdVideo
---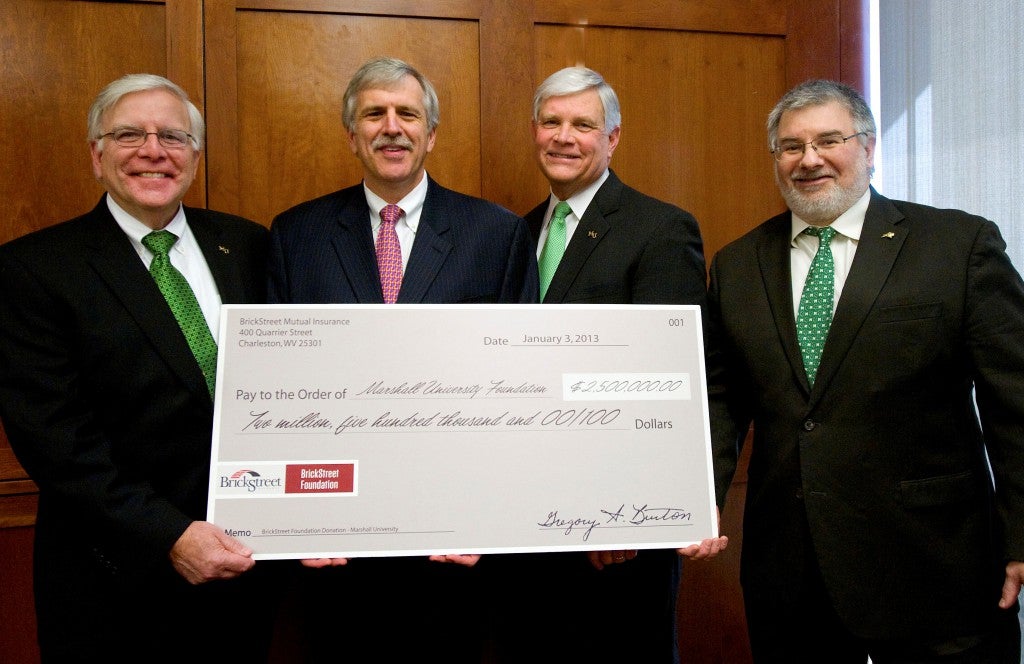 HUNTINGTON, W.Va. – Marshall University has received a $2.5 million gift from the BrickStreet Insurance Foundation Inc. to establish a research endowment.
The donation is expected to be matched through the state's "Bucks for Brains" West Virginia Research Trust Fund, for a total benefit to Marshall of $5 million.
Proceeds from the endowment will be used to support research at the university's Joan C. Edwards School of Medicine, particularly projects related to occupational and environmental health.
Greg Burton, president and chief executive officer of BrickStreet Mutual Insurance Company, presented the donation to university representatives today at the company's headquarters in Charleston.
"Through the leadership and vision of our board, BrickStreet has set up a foundation focused on giving back to the community in which we live," said Burton. "Through this partnership with Marshall University's Joan C. Edwards School of Medicine, BrickStreet is proud to support their continued research efforts. Many of our employees are Marshall graduates, so our partnership with the university runs deep and I know this investment will be used to not only strengthen the university's research efforts in occupational and environmental health, but also to continue to fulfill its mission to improve the health and wellness of our communities.
"As one of the largest workers' compensation providers in the region, we understand that the graduates of the Joan C. Edwards School of Medicine will be our future partners in continuing to improve occupational health across West Virginia."
Dr. Stephen J. Kopp, president of Marshall University, thanked BrickStreet for the contribution, saying, "We are very pleased and proud that BrickStreet has chosen to make this gift commitment in support of endowment-based biomedical research focused on some of the most pressing occupational and rural health problems confronting our state and region. The Marshall University School of Medicine is a leader in rural medicine and the support provided by BrickStreet will be amplified by matching support from the West Virginia Research Trust Fund. This research endowment fund offers great promise to help improve the health and wellness of our rural communities."
Dr. Joseph I. Shapiro, dean of Marshall's medical school, added, "I couldn't be more pleased to receive this generous gift from BrickStreet. It will most certainly benefit thousands of West Virginians. With this gift, Marshall researchers will conduct work that will span the spectrum from basic molecular research to practical, workplace-based research, finding both laboratory and clinical answers to help improve the quality of life for those in our state and region. BrickStreet has provided us with the necessary funding to get these projects under way and we can't wait to get started."
Last year, BrickStreet donated $300,000 to Marshall to support athletics, academics and research. A portion of that gift was matched by the state's trust fund.
The state legislature created the West Virginia Research Trust Fund in 2008 with an initial appropriation of $15 million for Marshall. The university can tap into this fund to double private gifts that support specific research initiatives linked to economic development, health care and job growth.
---
Photo:  From left, Marshall University President Stephen J. Kopp; Greg Burton, president and CEO of BrickStreet Mutual Insurance Company; Dr. Ron Area, CEO of the Marshall University Foundation; and Dr. Joseph Shapiro, dean of the university's Joan C. Edwards School of Medicine, display an oversized check for $2.5 million presented by BrickStreet Foundation to the Marshall University Foundation today at the BrickStreet office in Charleston. The donation will be used to establish a research endowment at Marshall. Photo by Rick Haye/Marshall University
---
Contact:  Ginny Painter, Communications Director, Marshall University Research Corporation, 304.746.1964
Recent Releases