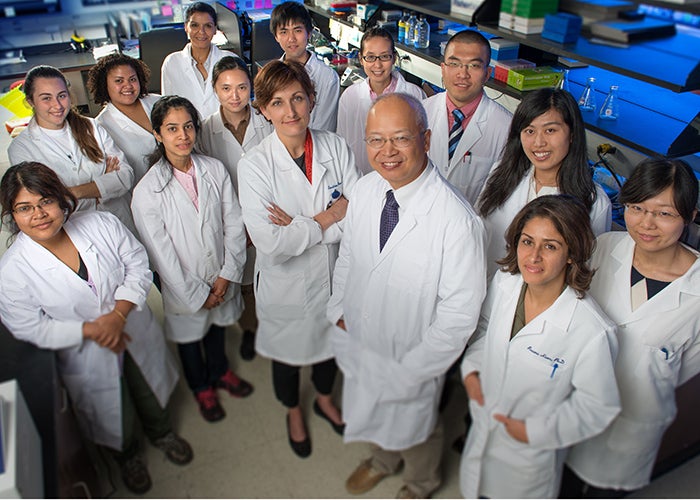 HUNTINGTON, W.Va. – The Marshall Institute for Interdisciplinary Research (MIIR) and the Marshall University Joan C. Edwards School of Medicine today announced they will be partnering with an international biosciences company to develop potential anti-cancer drugs.
Under the agreement with Shanghai-based HD Biosciences Co. Ltd., the three partners will share the costs and risks of discovery and development of these new drugs. They also will jointly own any intellectual property and commercialization rights to products developed through the collaboration.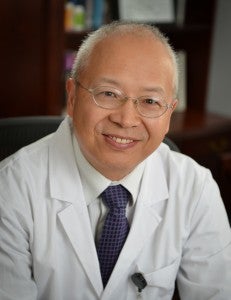 According to Dr. Zijian Xie, MIIR's director, getting new drugs from the research laboratory to clinical trials—where it is determined if the treatment is safe and effective for humans—is an expensive and time-consuming undertaking.
"Normally, it would take tens of millions of dollars and as long as a decade to translate the technology MIIR and the school of medicine have developed over the last several years into viable drug candidates," he said. "This joint effort with HD Biosciences will significantly shorten the process because of their expertise in drug discovery, and ultimately will reduce the risk for all the partners.
"In short, this represents a bold approach that will not only advance MIIR's mission of innovation, discovery, enterprise and advancement, but will also create new business opportunities and add value for all of us."
Dr. Joseph I. Shapiro, dean of the school of medicine, said the partnership was formed with the goal of bringing new treatments to cancer patients as quickly as possible.
"We couldn't be happier to work with HD Biosciences. Our venture allows lab-based scientists and clinical researchers to share ideas, move them forward at a quicker pace and ultimately provide better patient care," he said.
Dr. Xuehai Tan, president and CEO of HD Biosciences, added, "We are very pleased to have established this collaboration with Marshall University. This agreement is another example of our company's strategy and commitment to long-term growth. We will contribute with our extensive capabilities in preclinical drug discovery and new drug development in the Chinese market, and our ability to create value for the company and our partners, while the university is well versed in translational medicine, clinical trials and the U.S. Food and Drug Administration guidelines."
Dr. John Maher, Marshall vice president for research, said the venture has significant economic development potential for Marshall and the entire region.
He said, "By working together to examine the commercial viability of the disease targets and treatments being developed at MIIR and the medical school, we will be able to accelerate the translation of research from our labs into discoveries that will both help improve human health and stimulate economic development in the region."
---
Contact:  Ginny Painter, Communications Director, Marshall University Research Corporation, 304.746.1964