Violence Prevention and Response Program
Our Mission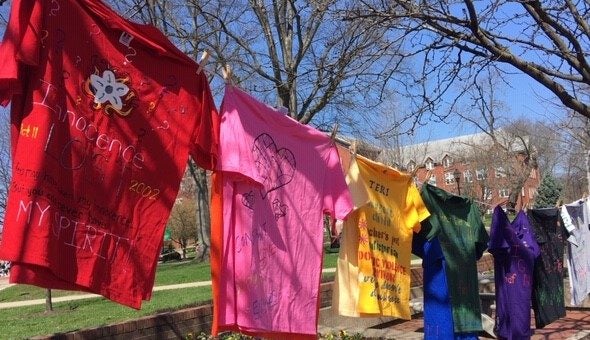 The Violence Prevention & Response Program is dedicated to creating and maintaining a safe and respectful campus environment by leading comprehensive and collaborative prevention initiatives, fostering a culture of community responsibility, and offering advocacy and support services to victims of interpersonal violence.
Our Staff
Director, Wellness & Gender Programs
Leah Tolliver
Email: tolliver@marshall.edu
Phone: 304-696-3112
Program Coordinator, Violence Prevention & Response Program
Liv Giovingo
Email: giovingo@marshall.edu
Phone: 304-696-5701
Sexual Assault Awareness Month
April 1-2, 11am-2pm: It's On Us Pledge Drive
Join us at the MSC Plaza from 11am-2pm to sign the It's On Us Pledge to prevent sexual assault on college campuses. Swag and resources will be available! For more information, or to sign the pledge virtually, visit https://www.itsonus.org/
April 7, 4-5pm : Bystander Intervention Training Session for Students
Want to learn how to be a positive bystander and advocate for a safer community? Join us virtually for bystander intervention. The training will be approximately 1 hour. To join the training, use the link below:
https://teams.microsoft.com/l/meetup-join/19%3ameeting_NjQ2ZjgyNzEtNzk2YS00MGU0LWFkZGMtYmM4NzdkNWE3NDc3%40thread.v2/0?context=%7b%22Tid%22%3a%22239ab278-3bba-4c78-b41d-8508a541e025%22%2c%22Oid%22%3a%22358bded9-f751-406e-bed8-499355297d08%22%7d
April 12-13, anytime: Walk a Mile
Each year, people across the world gather to participate in Walk a Mile in Her Shoes events. Walk a Mile is an international walk where men traditionally wear heels to symbolize "walking a mile" in survivor's shoes. This year, we will be having a campus route for the event. Walk the route at your own leisure but please remember to use social distancing and do not walk in large groups. The first 100 participants will be able to receive a Walk a Mile T-shirt. Shirt sizes are first come first serve. We encourage you to share pictures throughout your walk with #muwalkamile
For more information on Walk a Mile, please visit https://www.walkamileinhershoes.org/
April 28, all day: Denim Day
Denim Day is a campaign on a Wednesday in April in honor of Sexual Assault Awareness Month. The campaign began after a ruling by the Italian Supreme Court where a rape conviction was overturned because the justices felt that since the victim was wearing tight jeans she must have helped the person who raped her remove her jeans, thereby implying consent. The following day, the women in the Italian Parliament came to work wearing jeans in solidarity with the victim. For more information on Denim Day, visit https://www.denimdayinfo.org/why-denim
Each year, the tradition continues to wear denim as a reminder that clothing choice NEVER implies consent. Buttons will be available the week of April 26th across campus in the Wellness Center, Women's and Gender Center, Counseling Center, East Hall, LEAD center, and Student Affairs wing.
Information taken from https://www.itsonus.org/, https://www.walkamileinhershoes.org/, and https://www.denimdayinfo.org/why-denim