Society of Yeager Scholars announces 37th class of scholars
HUNTINGTON, W.Va. — This fall, eight students will begin their studies at Marshall University as members of the school's 37th class of Yeager Scholars.
The students, who come from West Virginia, Ohio, and Kentucky, accepted full scholarships to attend Marshall, where they will experience a rigorous and supportive academic environment in the school's Honors College, the opportunity to travel the world, and leadership and personal enrichment. The Yeager program includes a network of peers, alumni and mentors who guide the students during their time at Marshall.
The 37th class of Yeager Scholars is as follows: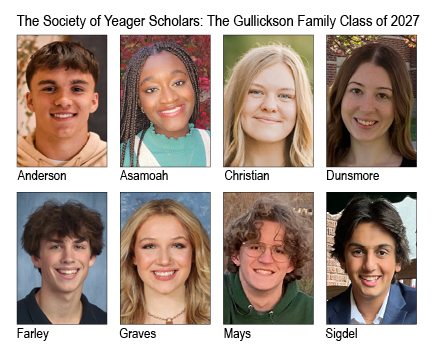 Brandon Anderson, of West Portsmouth, Ohio, attends Portsmouth West High School, where he is a four-year member of the football team. He plans to major in computer science.
Nicole Asamoah, of Beckley, West Virginia, attends Woodrow Wilson High School. At Woodrow Wilson, Asamoah is the president of the Diverse Students Organization (DSO), a student-founded organization that values and promotes diversity and inclusion in the school and community. She will major in nursing or biochemistry.
Abby Christian, of Catlettsburg, KY, also plans to major in nursing. Abby attends Boyd County High School and was selected as a 2022 Kentucky Governor's Scholar.
Lauren Dunsmore, of Proctorville, Ohio, goes to Fairland High School, where she is a member of the band. Dunsmore earned second chair flute in the 2023 Ohio Music Education Association All-State Band. She plans to major in biomedical engineering.
Tyler Farley, of Huntington, goes to Covenant School, where he is currently preparing a thesis that addresses economic inequality and the idea of a more localized economy. His current plan is to major in mechanical engineering.
Indigo Graves, of Sinks Grove, West Virginia, attends Greenbrier East High School. Graves plans to major in biomedical engineering. She was selected as a Greenbrier Scholar, an award given by her high school to top students at Greenbrier East.
Cameron Mays, Huntington, attends Huntington High School, where he is a captain of the school's debate team and the quiz bowl team. He plans to major in biology.
Sage Sigdel, of Huntington, also attends Huntington High School. He is a captain of the Highlanders' speech and debate team and plans to major in biology.
"We welcome these eight new Yeager Scholars and are eager to support them on their path forward," said Cara Bailey, director of the Society of Yeager Scholars. "The Yeager program proves pivotal in student development, as the vast network we have at Marshall guides the scholars from students of potential to students with proven ability."
This cohort was selected following a competitive application and selection process, with more than 200 applications started. The students submitted applications in December, advanced through semifinalist interviews in January, and experienced a weekend of additional interviews and activities in February.
"The incoming cohort of Yeager Scholars represents the Honors College's mission of inclusive excellence—a mission to which they will be committed," said Dr. Brian Hoey, dean of the Honors College. "These students have already accomplished so much, ranging from outstanding academics to extraordinary work helping to build healthy communities. They are impressive for their achievements even before their program in the college begins this fall. We have high expectations for their contributions to Marshall and the region.
"We are grateful for the opportunity to work with this diverse group of committed scholars to achieve the fullest expression of their potential to be socially conscious, responsible leaders and lifelong learners who aspire first to acquire and then to apply their knowledge for the greater good."
The cohort will be named the Gullickson Family Class of 2027, honoring the family of late Marshall professor and coach, Otto "Swede" Gullickson. Since Gullickson's arrival at Marshall in 1930, four generations of Gullicksons have been members of the Marshall community, including Gullickson's children, grandchildren, and his great-grandson, Alex Canfield, a 2020 alumnus of the Yeager program.
The first class in the Society of Yeager Scholars graduated from Marshall in 1991, and the program now boasts nearly 300 alumni. The Society of Yeager Scholars is named for the late West Virginia native and legendary military pilot, Charles E. "Chuck" Yeager. For more information, visit www.marshall.edu/yeager.