Open to the Public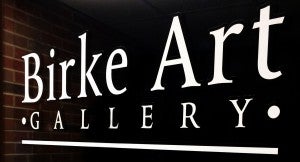 The Birke Art Gallery is Marshall University's on-campus display of the School of Art &Design's talented students, as well as professional exhibitions. It's free and open to the public. The space is beneficial to the community, but also to students, offering the developing artists the chance to interact with professional artists through viewing their work, and hearing the exhibiting artists present on their craft and concept. The gallery also serves as an exhibition space for the students. Each year, students show their work as part of the School of Art & Design Capstone Experience. For undergraduates this is in the form of the Student Juried Exhibition and graduating seniors and graduate students present individual and group shows.
If you are interested in submitting a proposal for an exhibition at Birke Art Gallery, please use Exhibition Proposal.  The gallery dimensions are available here.
Upcoming Shows
Paradise City
Works by Fountain of Pythons
January 25 – February 17
Paradise City is an exhibition of works by Tampa, FL based photography collective, Fountain of Pythons.  This exhibition is a collaborative curatorial project intended to exhibit their preoccupation with the culture and environment of South Florida. Two members of the collective will be on hand to install the exhibition themselves.  The public is welcome to visit during the installation and engage with the artists.
Artist Reception: Thursday, January 26th, 4-6PM
Artist Installation: January 25th
Artist Talk: Wednesday, January 25th, 5PM | VAC Room 209
31st Annual Juried Student Exhibition
March 8 – April 7
The 27th Annual Student Juried Exhibition, composed of artwork created by students in the School of Art and Design on display in the Birke Art Gallery, Award winners will be recognized at the reception on Wednesday, March 8th.
Artist Reception and Awards Ceremony: Wednesday, March 8th, 5-7PM
Foundations Reveiw: Selected Student Works
April 7 – May 23
Every semester Art & Design students who have recently completed the Foundations Program undergo the Foundations Portfolio Review process.  These students are asked to present their best work in front of the Faculty of the School of Art and Design.  From these presentations, the best works are then chosen to be exhibited at the Birke Art Gallery.
Artist Reception: Tuesday, April 18th, 5-7PM
General questions/media requests: