Because the health and safety of our community is our top priority, the galleries at Marshall University are temporarily closed and all gallery events have been cancelled for the time being.

Located in Smith Hall on the corner of
Hal Greer Boulevard and Third Avenue
Huntington, WV 25755 | 304-696-2296
Gallery Hours: Monday – Friday | 10am – 4pm

Open to the Public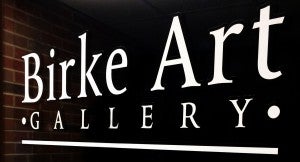 The Birke Art Gallery is Marshall University's on-campus display of the School of Art &Design's talented students, as well as professional exhibitions. It's free and open to the public. The space is beneficial to the community, but also to students, offering the developing artists the chance to interact with professional artists through viewing their work, and hearing the exhibiting artists present on their craft and concept. The gallery also serves as an exhibition space for the students. Each year, students show their work as part of the School of Art & Design Capstone Experience. For undergraduates this is in the form of the Student Juried Exhibition and graduating seniors and graduate students present individual and group shows.
If you are interested in submitting a proposal for an exhibition at Birke Art Gallery, please use Exhibition Proposal.  The gallery dimensions are available here.
Upcoming Exhibitions
34th Annual Juried Student Show
March 9 – 27
Every Spring, the School of Art & Design asks students to submit their best work for this exhibition.  This year's juror is Kevin Lyles, Professor of Art, the University of Rio Grande in Rio Grande, Ohio.
Awards Reception:  Wednesday, March 18, 5:00 – 6:30 pm (Awards at 5:30 pm!)
All events are free and open to the public
General questions/media requests: