Upward Bound Marshall University Summer Program
The six-week summer component of the Upward Bound program is a very essential part of guaranteeing student success in high school and building a solid foundation for a post-secondary degree. Participation is mandatory unless a release is requested and granted. You can stay up-to-date to the latest Summer Program information and other Upward Bound news at our Facebook page Upward Bound Marshall-University.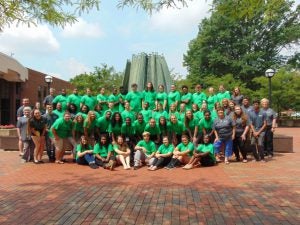 Summer Program is packed full of educational and cultural enrichment activities. Students are given a head start for the upcoming academic year with morning educational classes including:
Math
Science
Literature
Communications
Afternoon cultural enrichment classes include:
Languages
Fitness
Fine Arts
Physics
Life Skills/ Etiquette
Dance
Evening activities include:
Team Challenge Groups
Swimming
Bowling
Picnics
Huntington Outdoor Theater
The Pottery Place
Movie Theater
and more
Students also actively participate in a state-wide Upward Bound Day Competition held at different state institutions each year where they will get to work with students from other Upward Bound programs.
The summer also includes a trip out of town.
Past trips have included:
Atlanta, GA
Williamsburg, VA
Washington, DC
New York City, NY
Niagara Falls
If You Can't Participate
We will negotiate summer plans with you if ALL of the following criteria are met.
Cumulative GPA of 3.5 or higher
Consistently attend academic year activities
Follow UB Guidelines/Rules/Timetable
Maintain a positive attitude
If you meet all criteria to be released from the summer program for attendance at either non-curricular or extra-curricular activities, you miss the entire summer program. Students cannot take a week off during the summer and then return. Knowledge of the number of students in attendance is necessary to keep Summer Program running smoothly. You will, however, be permitted to return at the beginning of the academic year.
This does not include vacation time. Summer Program dates will be available a year in advance so that family vacations can be planned without conflict.
All situations are on a case-by-case basis. UB staff have the final say in all releases being granted.
More Photos on Facebook                                                                                                 
Forms                                                                                                                              
Advisor Application 2020 fillable PDF
Advisor Application Reference Form 2020 fillable PDF