Fall 2021 Activities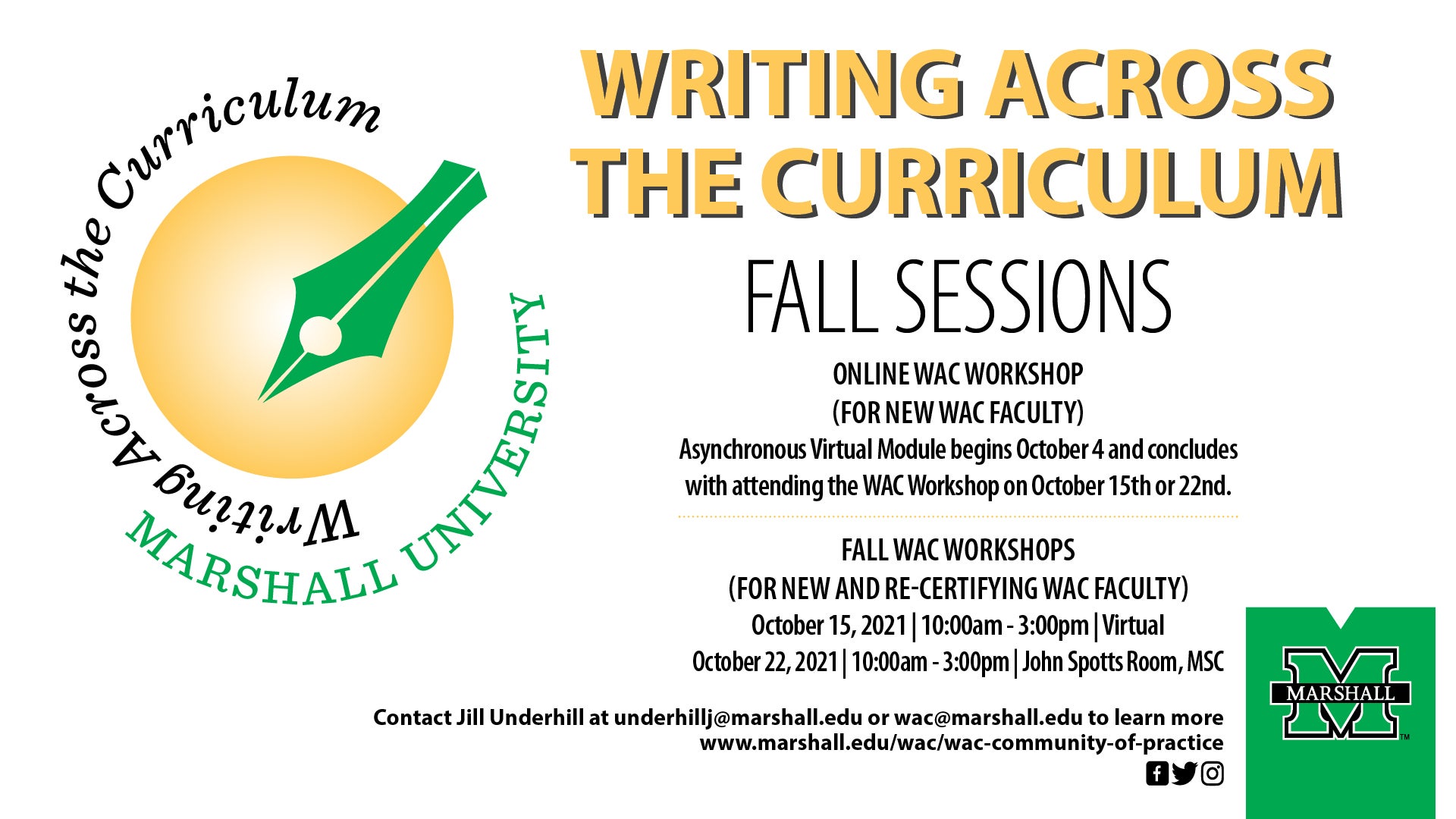 WAC Portfolio Session: September 24, 1pm – 3 pm. This workshop is for current WAC faculty who would like to complete a WAC Portfolio. This active writing session is designed to guide you through the portfolio process and help you make significant progress on your portfolio. This workshop is a virtual synchronous event.
WAC Portfolio Session registration
WAC Workshop for New Faculty: October 4 – October 22. This professional development event allows new WAC faculty to gain their initial certification. It will begin with an asynchronous online portion beginning October 4, and end with attending a fall workshop on October 15 or October 22.
WAC Workshop for New Faculty registration
WAC Fall Workshop: October 15 and October 22, 10am – 3pm. This annual event allows new WAC faculty to certify, and existing faculty to recertify.
WAC Fall Workshop Registration
WAC Workshop for New Faculty
After attending the Writing Across the Curriculum Workshop, you will have a class-ready syllabus, assignment ideas, and writing exercises specific to your course. You will also hear from long-time WAC certified faculty and receive peer support and feedback on your teaching materials. In this workshop, you will learn to:
design and teach a WI course
create innovative assignments, assessments and activities
use low, medium and high stakes writing
guide students throughout the writing process
respond to and assess writing
The workshop for new faculty begins with an online, asynchronous portion from October 4 to October 15, and ends with the synchronous virtual Fall WAC workshop on October 15 or October 22.
Who should take the WAC Workshop for New Faculty
New WAC instructors who will teach WAC courses in Fall 2021 or later
WAC Workshop for New Faculty registration
Fall WAC Workshops
This annual event will be held as a virtual synchronous meeting on October 15, 2021 and face-to-face on October 22, 2021.  WAC faculty will present on theoretical and practical aspects of WAC pedagogy.
Who should attend the WAC Fall Workshops
New WAC instructors who will teach WAC courses in Fall 2021 or later
Recertifying WAC faculty
Any faculty interested in learning more about the WAC program
WAC Fall Workshop Registration
Additional information
For more information, please contact wac@marshall.edu.