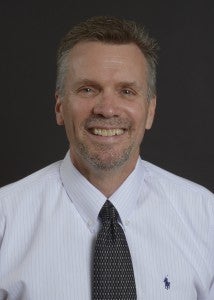 Dr. Beckett has been the Director of the CAATE-accredited Athletic Training Program within Marshall University's College of Health Professions since 2014. Dr. Beckett successfully transitioned the Bachelor's in Athletic Training program at Marshall to the Master's degree level in 2016. Currently, the ATP at Marshall University is the only program in West Virginia accredited by the Commission on Accreditation of Athletic Training Education to offer the Professional Master of Science in Athletic Training Program, and one of only a handful such programs in the Tri-State region. Dr. Beckett received his doctoral degree from West Virginia University in 1996, his master's degree from Marshall in 1983, his bachelor's degree from Wittenberg University in 1980, and has a combined total of 37 years' experience in higher education. Prior to his position at Marshall, Beckett was a Professor of Athletic Training and Program Director in Athletic Training departments at Eastern Kentucky University, Concord University, and Marietta College. Dr. Beckett also served as the Founding Department Chair and Program Director for the Department of Sports Medicine at the University of Charleston and as the Founding Director of the Post-Certification Graduate Athletic Training Program at UT-Chattanooga. From 1985-87, Dr. Beckett served dually as the AT Program Director and Head Athletic Trainer at Glenville State College and the University of Charleston. Dr. Beckett is a much sought after external consultant for institutions developing Athletic Training Programs or seeking reaffirmation of their accreditation including Oklahoma State University, Sterling College (KS), Shawnee State University (OH), Florida Southern College, Northern Kentucky University, Marshall University (WV), West Liberty State University (WV), Union College (KY), and Muskingum University (OH). Dr. Beckett was selected as the Most Distinguished Athletic Trainer by the Mid-Atlantic Athletic Trainers' Association in 2016, chosen as the West Virginia Athletic Training Educator of the Year in 2013, and selected as national recipient of NATA Service Award in 2008. Dr. Beckett presently serves as the District 3 representative on the NATA Professional Responsibility in Athletic Training (PRAT) Committee, and has previously served on three other national committees in his career including the NATA Post-Certification Graduate Education Committee, the NATA Education Council's Committee on Competencies in Education, and the NATA Pronouncements Sub-Committee on Heat Illness, in addition to being very active at the District and State levels. Dr. Beckett is a frequent speaker on a diversity of topics at the regional, state, and local levels. And just recently, Dr. Beckett was selected to the Editorial Board of the International Journal of Musculoskeletal Disorders where he plans on advocating for the Athletic Training profession to physicians and other healthcare personnel across the World. Beckett, is a native of Bluefield, WV, is married to his wife Sandie, who recently completed her 37th year with Delta Airlines. They are "empty nesters" with 3 older children, Brian Haun and his wife Monica Haun, Kevin Haun, and Jordan. Dr. Jordan Beckett, DO completed her pediatric residency at Nationwide Children's Hospital in Columbus the end of June, and began her position as a Pediatric Hospitalist at Camden-Clark Hospital in Parkersburg, WV only 2 weeks ago.
---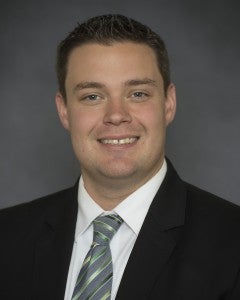 Dr. Zach Garrett is a native of Clarksburg, WV and currently serves as the Clinical Education Coordinator for Marshall University's Athletic Training Program. Since 2012, Zach has served as an Assistant Professor and Clinical Education Coordinator in the college's School of Kinesiology. He's a proud Son of Marshall with an undergraduate degree in Athletic Training and dual Master's degrees in Exercise Science and Health Care Administration. Zach completed his Doctor of Health Science degree at Nova Southeastern University in the fall of 2016.
Zach has a variety of experiences in the field of athletic training while practicing in high school, collegiate, professional, and clinical settings. He currently practices at Riverside Physical Therapy part-time. His research interests include injury prevention, concussion education and prevention, clinical education, and professional ethics. He is currently conducting collaborative research evaluating forces generated during tackling in rugby and football. Dr. Garrett has also been awarded the NFL/AHA Back to Sports grant, which is a funded program that provides parents and coaches free CPR training and injury prevention and education for youth athletes. He serves on the West Virginia Athletic Trainers' Association Executive Board as the President-Elect and was formally the Secretary. During his time on the executive committee, Zach has been an advocate for obtaining athletic training licensure, promoting the NATA Safe Schools Sports Award, and served as the WVATA Annual Symposium planner for two years. In 2016, Zach began serving on the NATA Committee on Professional Ethics which educates and ensures the enforcement of the NATA Code of Ethics. In 2017, Zach was awarded WVATA Athletic Training Educator of the Year and was selected to participate in the NATA Leadership Academy. Zach currently resides in Huntington, WV with his wife Kathryn.
---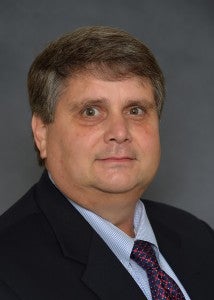 Mark Timmons, Ph.D., ATC, is an assistant professor of athletic training within the Marshall University College of Health Professions. Since fall 2013, Dr. Timmons has served as instructor for HS 365: Functional Kinesiology, HS 625: Evidenced Based Practice Therapeutic Electrical Agents, HS 440: Modalities in Athletic Training and other graduate courseswithin the School of Kinesiology.  Prior to his position at Marshall, Professor Timmons worked as an athletic trainer for the University of Chicago (1988-1999) before attending University of Michigan to receive his master's in kinesiology (2001). He also served as faculty at University of Toledo where he received his Ph.D. in exercise science (2007). Professor Timmons conducted his postdoctoral researchat the Hunter Holmes McGuire Veterans Administration Medical Center at Virginia Commonwealth University inRichmond, Va. (2009-2012) where he explored shoulder pain biomechanics within the general population as well as veterans in Iraq and Afghanistan.  In addition to being a Certified Athletic Trainer, Professor Timmons is a member of the National Athletic Trainers Association, the American Society of Biomechanics and the International Society of Biomechanics.  Fully aware of the opportunities the field of sports medicine has to offer, he hopes to bring an equal balance of academic and clinical experience to his students within the athletic training program.
---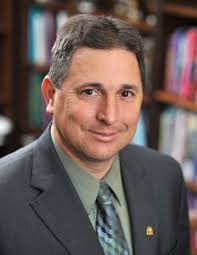 Gary McIlvain
School of Kinesiology
Phone: (304) 696-2930
E-mail: mcilvain2@marshall.edu
Gary Mcilvain, EdD, LAT/ATC, serves as the College of Health Professions Associate Dean of Student Affairs, School of Kinesiology Department Chair and Associate Professor at Marshall University. He received his Bachelors of Science from Lipscomb University in Nashville, TN, Masters of Science degree from Middle Tennessee State University and completed his Doctorate in Kinesiology and Health Promotion at the University of Kentucky. He started at Marshall in the fall of 1999 and has taught in the CAATE accredited athletic training education program serving as clinical coordinator and program director. Dr. Mcilvain's research interests are in injury prevention, specifically in regard to athletic injury prevention.
---