---
Statue
The eight-foot bronze statue of university namesake John Marshall stands in a circle between the John Deaver Drinko Library and the Memorial Student Center, facing John Marshall Drive.
Created by sculptor William Behrends and unveiled in October 1998, the figure portrays the chief justice in his judicial robes, stepping forward. The book held in the left hand symbolizes his early education at home on the Virginia frontier.
The six-foot base is engraved with the words "Revolutionary soldier. Definer of the Constitution. Devoted husband and father."
---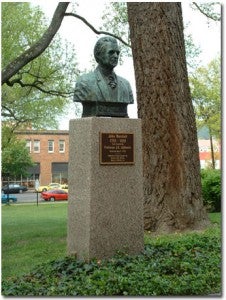 Bust
The bronze bust of John Marshall is located on the west lawn of Old Main.
Designed by then-art department chairman Joseph S. Jablonski, the current bust was dedicated in 1959 and replaced an original marble bust destroyed by vandalism.
The original bust was unveiled in 1937 by the chief justice's great-great-grandson and commemorated the 100th anniversary of Marshall College.
---
Learn More