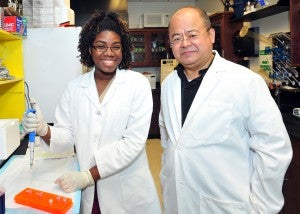 Undergraduate Creative Discovery and Research Scholar Award Program
Summer Undergraduate Research Experience – This program encourages promising young researchers in the fields of science, technology, engineering and mathematics. By providing support in the form of a stipend for a 10-week period, students can continue their research during the summer. The SURE program seeks to encourage students who intend to pursue graduate degrees in these high-tech fields.
West Virginia INBRE Summer Research Program and Summer Research Internship for Minority Students – Both these programs include nine weeks of graduate-level research in the field of biomedical sciences. Participants receive a stipend as well as formal research training, while expanding their learning experience through workshops, seminars on current topics, mentoring and use of state-of-the-art core facilities.
Department of Chemistry
Department of Biological Sciences
Department of Mathematics
NASA Undergraduate Research Fellowship Program