Our Partnerships, Our Projects

---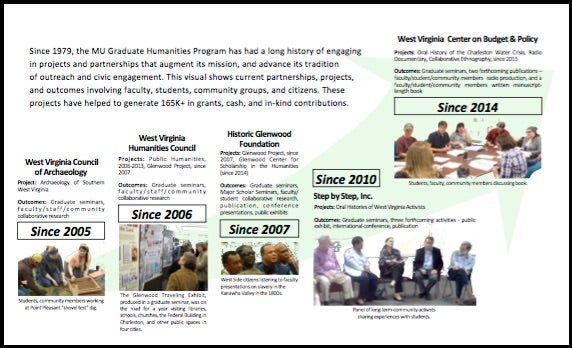 The Graduate Humanities Program was first established in 1979 with a $200,000 grant from the National Endowment for the Humanities.
Then and now, we take the idea of public humanities very seriously. A critical part of our mission thus concerns engaging in community partnerships that advance outreach, civic engagement, and community-university research.
Here's what some of our community partners have to say about a few of our more recent joint community-university research and civic engagement activities –
Renate Pore, Board of Directors President of the West Virginia Center on Budget & Policy, former Director of the West Virginia Health Care Planning Commission and former member of the Governor's Cabinet on Children and Families:
"I have found the Marshall University Humanities Program a good ally in its educational programming and outreach to the organizations I work with.  Most recently, the Humanities Program worked with the West Virginia Center on Budget and Policy in documenting the impact of the West Virginia American water crisis in 2014. I am looking forward to other joint ventures with the Humanities Program in documenting the impact of public policy on the lives of West Virginians."
Michael Tierney, Executive Director, Step by Step:
"I cannot overstate the importance of Marshall's support for these efforts, both the brilliance of the department's staff and students, and what it means to ground public discussion in the larger theme of the humanities as they play out in Appalachia—a sense of place, commitment to kith and kin, and the issues of civic responsibility within conflicting community needs."
Bill Davis, philanthropist and President of the Historic Glenwood Foundation:
The Glenwood Center for Scholarship in the Humanities "has permitted the Charleston community to benefit from humanities programming… Without the involvement of Marshall and Dr. Lassiter in the Center this type of effort would not be possible."
Ken Sullivan, Executive Director of the West Virginia Humanities Council
"Kanawha Valley's own educational institutions traditionally offered only limited opportunity for graduate training in the humanities. Historically, the Marshall University Graduate College and its predecessors have helped to fill the gap by offering first-class instruction at a nearby location, at reasonable cost, and on a schedule suited to the needs of busy students. This has been of tremendous value to many people, and continues to be of value today. . . . The Humanities Council has enjoyed a long and productive working relationship with the Graduate Humanities Program. . . . We have been able to provide grant support for projects there, and often collaborate informally."
Robert F. Maslowski, President of the Council for West Virginia Archaeology:
"For more than a decade, the Graduate Humanities Program has provided West Virginia with the only graduate program on local archaeology.  The Graduate Humanities Program has collaborated with Concord University, the West Virginia Humanities Council, the Council for West Virginia Archaeology, the West Virginia Archeological Society, the Glenwood Foundation, the University of Kentucky and the Summers County Historical Society to provide unique field experiences and programs for its students and to obtain grants for archeological research in southern West Virginia."