West Virginia Activist Archive

---
The West Virginia Activist Archive is an effort to gather the stories of West Virginians engaged in social change, past and present. We gather activists, individually and in panels, pair them with students and volunteers to record their stories and gather the images and artifacts that provide a broader framework to understand their work and their movement.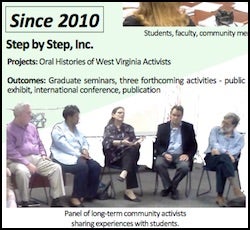 February 17 – Environmental Activism: Angie Rosser, West Virginia Rivers Coalition & Robin Wilson, West Virginia Citizens Action Group
March 9 – Faith Based Activism: Rabbi Victor Urecki, B'nai Jacob Synagogue; Ibtesam Barazi, Vice President of Islamic Association of West Virginia; and Reverend Jeff Allen, Director of the West Virginia Council of Churches
March 16 – Women and Community Development: Christine Weiss Daugherty, International and U.S. rural development & Margaret Chapman Pomponio, West Virginia FREE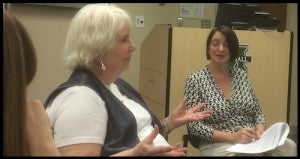 March 30 – Cultural Preservation: Robert Maslowski, Council for West Virginia Archaeology & Carter Taylor Seaton, author, sculptor, and arts advocate
April 6 – West Virginia Chose Me (Transplanted Activists, including some of the original VISTAS): Colleen Anderson, writer and graphic designer (VISTA 1970-71); Ric MacDowell, Lincoln County youth advocate (VISTA 1968-69); and Rachel Dash, WVU Behavioral Medicine & Psychiatry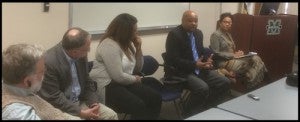 April 8 – Civil Rights and Racial Justice: Paul Sheridan, Civil Rights lawyer; Reverend Matthew J. Watts, HOPE Community Development Corporation; and Gregg Suzanne McAllister, President of Mothers of Diversity America
April 20 – Labor and Economic Development: John David, Southern Appalachian Labor School & Brandon Dennison, Coalfield Development Corporation
Spring 2016 Student Exhibit – Featuring the Work of . . .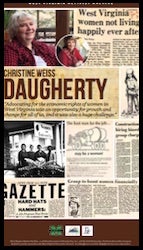 Christine Weiss Daugherty, women's & rural rights activist – "Advocating for the economic rights of women in West Virginia was an opportunity for growth and change for all of us, and it was also a huge challenge."
Shelly Gaines, rural activist & girls resiliency programs – "We wanted to create a group to build relationships, connections to give the girls tools to better prepare themselves for life."
Jim Hatfield, clean & safe water activist – "What is the shared responsibility for the water crisis and how can a similar crisis be avoided in the future?"
Sister Kathleen O'Hagan, Big Laurel School – "I felt inspired by the dream of opening a mountain school and serving the children of southern West Virginia, and that dream motivated me."
Renate Pore, women's rights & health care activist  – "I started asking my husband to cook. Eventually that led to a radical break with my old life."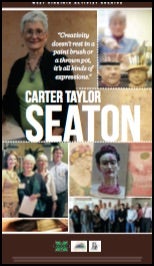 Carter Taylor Seaton, author, sculptor and arts advocate – "Creativity doesn't rest in a paint brush or a thrown pot; it's all kinds of expressions."
Sister Gretchen Shaffer, Big Laurel School – "I didn't plan a life educating children in the southern West Virginia mountains, but doing this work and making my home here worked out so wonderfully well."
Stephen Smith, Takeiya Smith, and Kristen O'Sullivan Harrison, children and family advocacy – "We do not speak on behalf of kids and families, we are kids and families."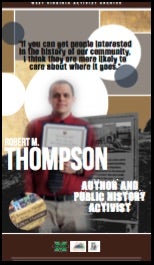 Robert M. Thompson, author and public history activist – "If you can get people interested in the history of our community, I think they are more likely to care about where it goes."
Rabbi Victor Urecki, interfaith advocate, "It is important to be a champion of interfaith conversations and friendships."
Reverend Matthew J. Watts, urban community development and Civil Rights – "I always try to encourage these young people to understand that you have been through things that few people your age have gone through, and so you have emotional strength, a stability on the inside of you that is far beyond your years and it will serve you well in the time to come."
Robin Wilson, peace and environmental activist – "The Peace Movement owes a big debt to the Civil Rights Movement. There were a lot of battles that were like hitting your head against the wall.  Martin Luther King proved that nonviolence can work."