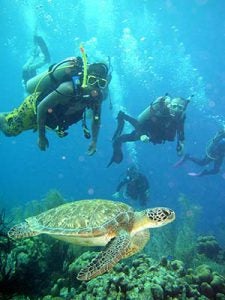 The Environment Science major prepares students for careers or advanced studies in management, conservation, protection, regulation, and restoration of natural resources. Environmental Science merges concepts in geology, ecology, biology, chemistry and physics to provide students with a strong science foundation which forms the basis of understanding of environmental issues. With strong collaboration with the traditional sciences and faculty expertise in the integration and application to complex environmental problems, our students receive excellent knowledge and skill-sets to prepare for futures in the environmental fields. Technology is incorporated in the curriculum to provide students with up to date educational experiences preparing them for decision making in our modern world. Students receive hands-on experience with technology such deployed high frequency sensors, drones, and state of the art field sampling equipment complementary to geographic information systems, remote sensing and big data analysis platforms for data analysis. Additionally, ES integrates understanding of laws and regulations relevant to aspects of conservation, protection, and management of natural resources on which students are focused.
The bachelor's degree in Environmental Science at Marshall University, is an integrated program with coverage of broad topics preparing students for the complex problems facing a modern world. Areas of Emphasis help focus student efforts toward individual goals and interests with consideration to obtaining rewarding careers the fields of environmental science or conservation or pursuing advanced studies.
Graduates in Environmental Science will take advantage of the widespread opportunities supporting protection of the environment and increasingly limited resources.  Students of Environmental Science can complete internships to receive real world experience from government agencies, private environmental companies, and public interest groups such as watershed coalitions. Recent graduates have been accepted into prestigious graduate programs or found employment in a number of state and federal environmental agencies, consulting companies, and conservation services.
Curriculum Guides
Why study Environmental Science at Marshall University?
Marshall University's bachelor's in Environmental Science provides a strong foundation in diverse topics but ultimately allows students to focus on individual interests preparing them for diverse careers. With faculty expertise in aquatic and terrestrial  ecosystems and active research opportunities, our Environmental Science students have opportunity to experience:
Aquatic and Terrestrial Ecosystems
Freshwater and Marine Ecosystems
Field and Laboratory Research projects
Instrumentation and Technology Practice
Paid Internships
Undergraduate presentation/publications
Travel to Local/Regional/National Scientific Conferences
Students at Marshall can enhance their educational experience by joining university clubs and professional organizations. University clubs such as the Marshall Environmental Student Association (MESA) and Scuba Club provide social networking and volunteer experiences. Membership in professional organizations, such as the American Fisheries Society (Marshall Chapter), the Association of South Eastern Biologists, Society of Freshwater Science, Ecological Society of America, and the Society of Environmental Toxicology and Chemistry provide opportunities to develop a professional network and leadership experiences.
Career Outlook for Environmental Science
Graduates with a bachelor's degree in Environmental Science find jobs in government, teaching, environmental and conservation organizations, consulting and industry.
Graduates from our program look for positions in:
US Army Corps of Engineers
Unites States Fish and Wildlife Service
United States Environmental Protection Agency
West Virginia Department of Environmental Protection
West Virginia Department of Natural Resources
Ohio Environmental Protection Agency
Kentucky Department of Environmental Protection
The Nature Conservancy
Non-profit environmental advocacy groups
Private Industry
Private Consulting Companies
Collaboration Opportunities
Marshall's Environmental Science faculty are research active, and frequently collaborate with other universities, state and federal agencies, and private sector consulting companies and industry. These collaborations offer undergraduate students opportunities to gain research experience and network with other professionals from their first year at Marshall University.  Through these associations, students routinely receive paid internships, contribute to research, present at state and regional scientific meetings, and develop professional resumes which allow them to easily transition to graduate school or employment upon graduation.
Programs Related to Environmental Science
Interested in related programs? Check out these other undergraduate programs, and talk about your options with an admissions counselor/academic advisor.
Your Next Steps to an Environmental Science Bachelor of Science Degree
If you still have questions and want more information, please contact us today. We're ready to help you take your next steps to your Marshall University education.
Undergraduate Admissions: 1.800.642.3499 or admissions@marshall.edu