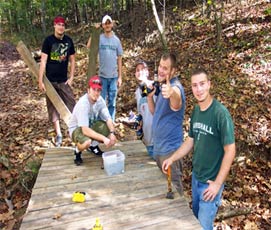 The Bachelor of Science (B.S.) in Natural Resources and Recreation Management (NRRM) provides students with comprehensive knowledge and background associated with planning, management and monitoring of natural and outdoor recreation resources.  Graduates from Natural Resources and Recreation Management will differ from their colleagues of other institutions through their education in Global Positioning Systems (GPS), Geographic Information Systems (GIS) & Remote Sensing (RS), basic computer programming, and technological instrumentation training through real world settings. The skills will provide countless advantages as students pursue either a professional career or graduate education. Most NRRM courses rely heavily on out-of-classroom experiences using local natural areas, municipal parks, and state and federal land to promote a more in depth and real world understanding. For students interested in pursuing a graduate education, NRRM faculty are eager to work with undergraduates on research experiences in preparation for a graduate career.
NRRM is a young and innovative program recognizing the importance of balancing natural resource conservation for future generations with protection of the resources utilized for enjoyment of the current generation.  Outdoor recreation activities such as rock climbing, hiking, and kayaking are growing areas of fitness and entertainment. Recent studies show that record numbers of families and individuals are utilizing our park systems, and resource management is becoming more critical than ever before. In addition to the biophysical sciences, the NRRM curriculum emphasizes human dimensions of natural resource management. This is an important focal area within the curriculum as federal and state land management agencies are relying heavily on management strategies involving public input/participation. Curriculum additions to reflect this national trend prepare our students for employment opportunities in federal and state land management agencies.
Curriculum Guide
Natural Resource & Recreation Management
Why study Natural Resources and Recreation Management at Marshall University?
Marshall University offers exceptional opportunities for students interested in natural resources and recreation management. In addition to its traditional curriculum and integration of hands-on learning experiences, the program offers service learning experiences, critical thinking courses, and writing intensive courses to broaden the academic experience. The program is committed to service within and outside the university with these unique opportunities further offering hands-on experiences for students. For example, the annual Earth Day event has been coordinated by NRRM faculty and students enrolled in NRRM 340 (Event Management) over the past several years. NRRM faculty also regularly co-host the GIS Day event that takes place on campus each year.
The program supports an on-campus Parks and Recreation Organization for Students, which organizes and participates in student recreation activities providing leadership opportunities, field experience, and social opportunities.
A final distinction of Marshall's NRRM program is our unique technological and interdisciplinary focus. Graduates from the program will be proficient in GPS, GIS, RS, and the application of research methods and statistics in real world settings. This skill set will offer students unique and essential advantages setting them apart from their competitors when applying for positions in federal and state land management agencies or pursuing graduate education in the same field.
Career Outlook for Natural Resources and Recreation Management Majors
Career opportunities are abundant and growing for NRRM majors based on the Bureau of Labor Statistics, which reports higher than average growth in the field. Potential employers for NRRM students include parks and protected areas, municipal and county park systems, non-profit environmental organizations, and federal and state land management agencies. Recent employers of our graduates include:
West Virginia State Parks (WV DNR)
United States Forest Service
United States National Park Service
United States Fish and Wildlife Service
United States Army Corps of Engineers
Graduate schools where our NRRM students have pursued advance degrees include:
Ohio University
West Virginia University
Eastern Kentucky University
Collaboration Opportunities
Collaborations within and outside the university allow our students to establish a professional network that supports their entrance into the professional arena. NRRM faculty members actively collaborate with colleagues from Environmental Science, Geography, Specialty Agriculture, Computer and Information Technology, Sociology & Anthropology, and other departments.  We actively supported undergraduate student research activities to enhance hands-on and real world experiences by providing supervised research, capstone projects, and independent studies.  Examples of the projects include 1) visitor survey at Beech Fork State Park (WV), 2) interpretative sign design at various locations, 3) monitoring water quality at Kanawha State Forest (WV), 4) detecting vegetation impacts by recreational use using remote sensing technology, 5) vegetation mapping on campus, and 6) remote sensing for monitoring fire impacts. Larger collaborative projects have included: 1) mapping recreational facilities/infrastructure or inventorying natural resources using GPS/GIS, and 2) development of recreational or interpretive programming for phone apps and web development.
In addition to internal collaborations at Marshall University, our students complete an external internship that allows them to gain valuable knowledge and experience and form professional relationships. Hosting agencies have included local organizations such as Beech Fort State Park (WV), Carter Caves State Resort Park (KY), Coal River Group (WV), North Bend State Park (WV), the Blue Ridge Mountains Council (BSA), WV Division of Natural Resources, and others. Depending on student interests, internships have extended across the country and been as diverse as providing outdoor experiences for K-12, reforesting after wildfires, and leading nature tours at summer camps.
The NRRM program at Marshall University gave me an opportunity of a lifetime to really get involved with what I love – the outdoors. I was able to learn the scientific understanding of how the great outdoors function, and how to plan and manage to accommodate the users, as well as preserve and conserve it for future generations. Technology is an every growing function in this field, and this program offers that learning experience. The hands-on fieldwork is a fun requirement that really makes the hard work worth it. The NRRM program is challenging, but it also comes with a very rewarding experience. If I had it to do all over again, I would still choose NRRM as my major as it helped me prepare for a career in the field I love – the great outdoors.
Programs Related to Natural Resources & Recreation Management
Interested in related programs? Check out these other undergraduate programs, and talk about your options with an admissions counselor/academic advisor.
Your Next Steps To A Natural Resource & Recreation Management Bachelor Of Science Degree
If you still have questions and want more information, please contact us today. We're ready to help you take your next steps to your Marshall University education.
Undergraduate Admissions: 1.800.642.3499 or admissions@marshall.edu