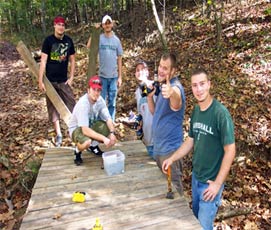 Natural Resources and Recreation Management (NRRM) students will be prepared for professional careers in natural resources recreation through the study of environmental science, technology, social science, and traditional recreation concepts and ideas. Graduates from Natural Resources and Recreation Management will differ from their colleagues of other institutions through their education in Global Positioning Systems (GPS), Geographic Information Systems (GIS), basic computer programming, technological instrumentation training, and the application of statistics and additional mathematics through real world settings. The skills will present countless advantages to you as you pursue either your career or graduate education.
Most NRRM courses rely heavily on out-of-classroom experiences in order to promote a more in depth and real world understanding, using local natural areas, municipal parks, and state and federal land to support learning. For students interested in pursuing a graduate education, faculty are eager to work with undergraduates on research in both environmental science and social science.
Recent graduates from the program have found employment with a variety of agencies, including state park systems, municipal and county park systems, the US Army Corps of Engineers, the USDA Forest Service, and countless other organizations.
Four-year Plan of Study
Natural Resources and Recreation Management Four-year plan
Faculty
Min Kook Kim

Phone: 304-696-3748
Office: Prichard Hall Room 212

Ph.D. in Forest Resources (Park Management), University of Maine

Research/Teaching interests:

Park management focusing on human impact analysis
Land use and cover change analysis based on remote sensing and GIS modeling
Community park, trail and site design using geospatial information