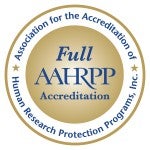 ORI currently provides support for both Medical (IRB#1) and Behavioral and Social Sciences (IRB#2) Institutional Review Boards. The office supports the institutional Animal Care and Use Committee and the Conflict of Interest in Research Committee.
Our office also educates Marshall students and employees regarding research misconduct regulations.
Information regarding application forms, deadlines, information about policies and procedures, and Marshall University's Statements of Assurance can be obtained on this website or by contacting the ORI staff.