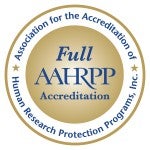 Marshall University has received Full Accreditation from the Association for the Accreditation of Human Research Protection Programs (AAHRPP). We were the first academic institution in the state of West Virginia to receive this prestigious accreditation.
What benefits does our organization realize because of accreditation? 
Through accreditation, we demonstrated our high ethical standards in protecting research participants, which will help to increase public trust in research.
AAHRPP's stringent standards helped us raise the quality of our human research protection program.
By carefully reviewing our program, we have a more efficient and effective research operation.
Accreditation signals to sponsors and investigators the efficiency of our operation and the quality of the data produced. Sponsors and investigators now have readily available information about our ability to conduct research ethically and in compliance with regulatory requirements.