Since 2008, the Program's "Occasional Publications" series has featured limited publications of Graduate Humanities Program student and faculty work.
Spring 2008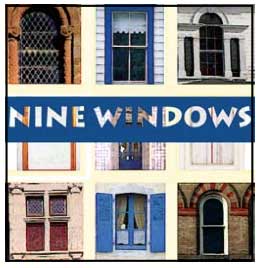 The Nine Windows Anthology, written and edited by Dr. Fran Simone with Jeanette Ahangardezfooli, Beth Campbell, Steve Cook, Lin Yisheng, Martha Mozingo, Pan Ying, Kathryn Santiago, Celene Seymour, and Gabriealla Williamson.
Williamson writes, for example, that the anthology grew out of a creative writing seminar taught by Simone in Spring 2008: "By the end of the semester we were left with a provocative glimpse into 'nine windows': the nine of us put together nine short stories that reflected our own challenges, interests, and talents, culminating in a book of our finished stories entitled Nine Windows, published for the class by the Program. These stories reflect our diversity, our talents and our amazing journey into the realm of the creative process."
Fall 2009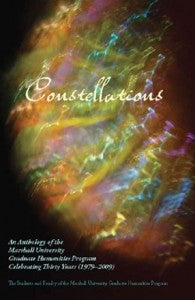 To mark our 30th anniversary, students and faculty compiled a book of writings and other creative works by Graduate Humanities Program faculty and students involved in the Program over the past thirty years. The work, titled Constellations, and edited by Kathryn Santiago ('09) in collaboration with Penna Design, was printed by the University of Nebraska Press.
In her Preface, Santiago notes that as a creative work engendered by those living and working in the Appalachian mountains, the anthology challenges conventional notions of what constitutes the Appalachian arts: "Like many literary and artistic movements and styles, the Appalachian arts have had to fight for their place. Yet traditionally, many critics in and out of the region have narrowly defined Appalachian arts as rustic folk crafts. Consequently, to introduce innovative or modern techniques almost requires the art or the artist to lose the brand name 'Appalachian.' . . . The discussion of our region has historically taken place among those who have looked at it from outside with select information provided from residents. As this discussion transitioned from sensationalized writing to academic study, community involvement has deepened communication. For the past 30 years, the Marshall University Graduate Humanities Program has been a prime venue for this generations-long discussion through seminars and certificate programs for a diverse group of students and faculty."
More about the December 2009 book launch is posted here.
Hard copies or electronic versions of the book are available for free upon request from the Program Director.
Spring 2011
What leads one to become an artist? What does a life in art look like? And what are the unique life trajectories of a life in art? What can we learn from art as lived, as loved?  During the Spring 2011 semester, Mark Tobin Moore led a Graduate Humanities seminar that brought together students with numerous community partners to explore these and other questions about what it means to inhabit a life in art.  Appropriately titled "A Life in Art: Hank Keeling," the seminar focused on the life and works of the late West Virginia artist and educator Henry C. Keeling (1924-2010), or "Hank," as he was known by most.  The process engendered a traveling exhibit and this exhibit catalog, which features works by Keeling as well as research, testimonies, and reflections by students and others who helped bring the project to life. Dr Lassiter notes in the forward to the work that: "As Director of the Graduate Humanities Program, I am especially proud of the high quality work here presented by students and other contributors who, in addition their exhibit and catalog contributions, also provided their time, expertise, moral and financial support to make this happen.  I would be remiss, however, if I did not single out the hard work and dedication of Mark Tobin Moore, whose tireless efforts to promote the arts and humanities in West Virginia is an exceptional gift to us all.  Indeed, Mark is a rare breed.  He has taught many Graduate Humanities seminars such as this, all of which have led to similar results.  As someone who has worked on comparable collaborative projects, I can attest that though the work is never easy—it always presents numerous challenges and difficulties—in the end what makes it worthwhile is how the collaborative process opens opportunities for connection with others, and importantly, affords personal growth and fulfillment.  And this project has been no exception. Though such work may appear, on the surface, effortless, this is only so because Moore and his many collaborators have spent many days and nights working behind the scenes to provide the kind of experiential and product-based graduate education for which our Program is known."
Moore designed and edited the work in collaboration with Terry Asseff Designs.  Book hard copies are available in the Program Office.  The work can be viewed in its entirety here.