Water Crisis Oral History

---
The Water Crisis Oral History began in the months after the January 9, 2014 chemical spill along the Elk River in Charleston, West Virginiacom  MCHM (4-methylcyclohexane methanol) made its way into the drinking water of over 300,000 citizens in a nine-county area.  For a brief summary of this spill and the ongoing water crisis it started, see here.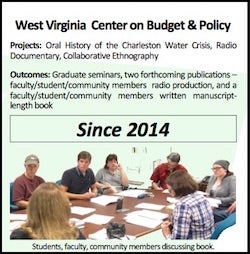 Under the auspices of the Charleston-based Center on Budget and Policy, citizens (several associated with the Graduate Humanities Program) conducted a broad-based oral history of the spill. In direct collaboration with the Graduate Humanities Program, the group began working to both analyze and disseminate the oral history through various media, including a podcast, website, and a new book. In the Spring of 2015, the Program collaborated with Laura Harbert Allen and Gabe Schwarzman to begin the podcast production via the graduate seminar, "Water Crisis Oral History and Documentary."  And in the Fall of 2015, we began the process of writing a collaborative ethnography via the graduate seminar, "Writing the Water Crisis."  Both the podcast and book, to be released together with the website, are still in production. Because we are working via a framework of collaborative ethnogrpahy, it takes time for material preparation and for citizens to review their contributions before actual dissemination takes place.  It is, indeed, a slow method, but very much worth the effort.
Check back here for updates as things progress (and they will)….
Update (Fall 2018): Our 277 page manuscript draft, "I'm Afraid of that Water": A Collaborative Ethnography on a West Virginia Water Crisis is now complete! Authored by faculty, students, local activists, community-based researchers and writers, the book has undergone an academic peer review, and changes are now being made to the final manuscript for resubmission, after which it will undergo a final academic review.  We expect to have more in Spring 2019 as the book moves into a publication schedule.  Be sure to check back then….