Marshall's football team won two NCAA National Championships in Division 1-AA and made the move back to the MAC. Marshall garnered enough support to develop its women's sports programs and move back to Division 1-A. New emphasis was placed on scholarly achievement. The academic program gained a significant stamp of approval with re-accreditation by the North Central Association of Colleges and Schools. Enrollment exceeded 12,000 students – many of them older and part-time as the university served a more diversified student body. Dr. J. Wade Gilley replaced Dr. Nitzschke in 1991. Gilley used straight forward efforts to tweak Marshall University into an internationally known establishment of higher education. His 21st Century-orientation propelled the university financially. Dr. Gilley was able to eliminate the university's massive debt and develop progressive instruction initiatives, including tele-conferencing, remote instruction, and classes via the World Wide Web.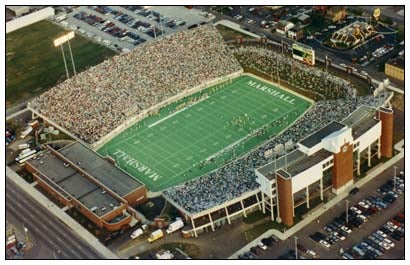 In the fall of 1991, Marshall University Stadium hosted its first game. The $30 million project originally seated 28,000 spectators. In 1995, 2,280 seats were added. After its completion, it was the third-largest stadium in Division 1-AA football. It would later be selected to host the division's national championship playoffs and final game.
Marshall won the school's first football championship in 1992, defeating Youngstown State, 31-28, for the I-AA crown. The championship game was played at Marshall Stadium.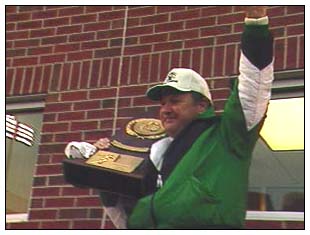 Marshall left the Southern Conference and Division I-AA after the 1996-97 academic year. In 1997, the Thundering Herd joined the Division I-A Mid-American Conference, of which it had been a member nearly three decades before.
Marshall competed for eight years in the MAC, winning five bowl championships and six conference titles. Perhaps its most memorable football season was in 1999, when Marshall went 13-0, defeated traditional national powers Clemson 13-10 in the season opener and Brigham Young 21-3 in the Motor City Bowl, and earned a top 10 national ranking. Other signature victories for Marshall during its years in the MAC came against South Carolina, 24-21, in 1998, and against then sixth-ranked Kansas State, 27-20, in 2003.
Marshall won more football games than any other Division I-A or I-AA team in the 1990s, going 114-25. From 1996 through 1999, the Herd was an incredible 50-4 – a winning percentage of .926. Since 1991, the Thundering Herd has played its home games at Marshall Stadium – later renamed Joan C. Edwards Stadium, which has expanded to a capacity of more than 38,000.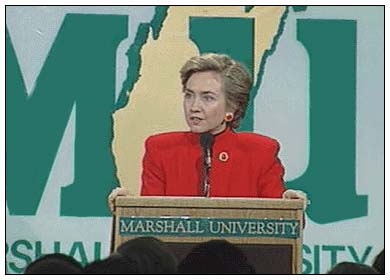 Just like in previous decades, Marshall was a stage for political messages both on the local and national front. Vice President Dan Quayle made a visit in 1989. In the fall of 1992, then Arkansas governor Bill Clinton's wife, Hillary, made a campaign speech during the heated run for the presidency. She returned the next year to thank Huntington for its support and to also promote national health care. Above, first lady Hillary Rodham Clinton addresses hundreds of students, faculty, staff and community members in the Don Morris Room at the Memorial Student Center.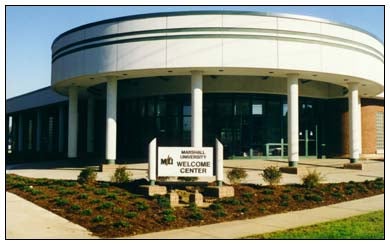 Completion of the Bliss Charles Office of Campus Safety took place in 1995. The information and security center is staffed 24 hours a day and provides registration, admissions and public safety services. The Office of Campus Safety is located across Fifth Avenue from Twin Towers residence halls and is the gathering point for all campus tours.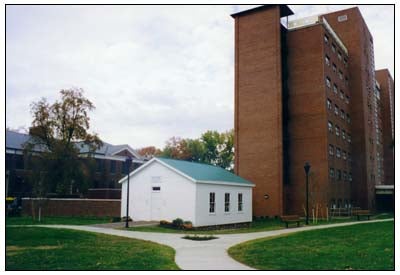 The Marshall University One Room School House was moved from a rural location onto the downtown campus in 1995. The school is representation of yesteryear. The building once called "Union School" is constructed on the same site which once stood the teachers' education lab annex. The school is situated in front of Holderby Hall. History professor Dr. Paul F. Lutz was instrumental in helping bring the piece of history onto campus.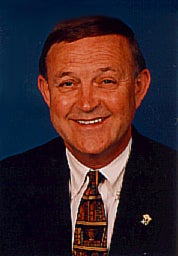 J. Wade Gilley, president of Marshall University throughout much of the 1990s, unveiled the enriched "Marshall Plan" course of study in 1995. Dr. Gilley and university leaders wanted to ensure that Marshall graduates are prepared for life and work in the 21st Century. Students are expected to complete a "Capstone Experience" that enables them to synthesize and demonstrate competent learning in their field. Students also take four hours of integrated sciences as well as three hours of international studies and multicultural studies. Also, tougher standards were established for admissions.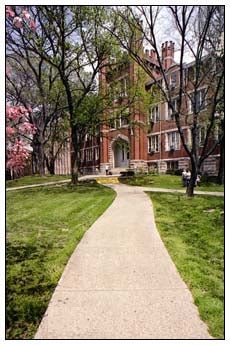 U.S. News publication, America's Best Colleges, named Marshall University fourth among all the regional universities in the South in its "Best Values" ratings of academically outstanding (top 20 percent) universities offering reasonable costs.
Marshall University and the West Virginia Graduate College merged programs in 1997. Coordinating programs to offer students more opportunities was the goal. As a team, the two institutions have a graduate enrollment of about 4,000 and more than 500 graduate faculty.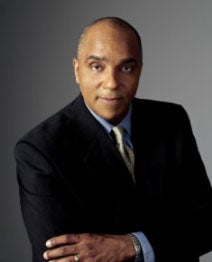 Marshall graduate and CNN correspondent Joe Johns returned to campus to speak to political science students, faculty and community members during a reception in 1997.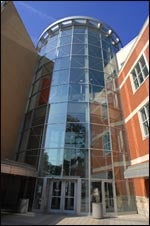 Construction on a facility that took Marshall into the 21st Century, the John Deaver Drinko Library, began soon after Northcott – the second-oldest building on campus – was demolished in the summer of 1995.
The Drinko Library, the university's second full-size library and information center, opened in 1998. It melds a full range of traditional library services with state-of-the-art computer and advanced technological education facilities that include multimedia training and presentation rooms, workstations, distance education and computer carrels.
The west end of the $29 million resource center resembles Northcott with its historic entrance arc. The east end of the building is more modern looking with a five-story atrium.
The Drinko Library has a 24-hour reading room/computer lab with computer consultation stations and assistive technology. The collection includes books, bound periodicals, and a wide variety of media and Internet accessible electronic materials.
The library also has study rooms, conference collaboration rooms, and an auditorium, and also houses offices of Information Technology, University Libraries, Instructional Technology, University Computing Services, and Telecommunications.
The library, located on the western side of campus beside Old Main, is named for John Deaver Drinko, a Marshall graduate, philanthropist and strong supporter of higher education.