Contacts/Hours
304-696-2343
3rd Avenue, Huntington, WV 25755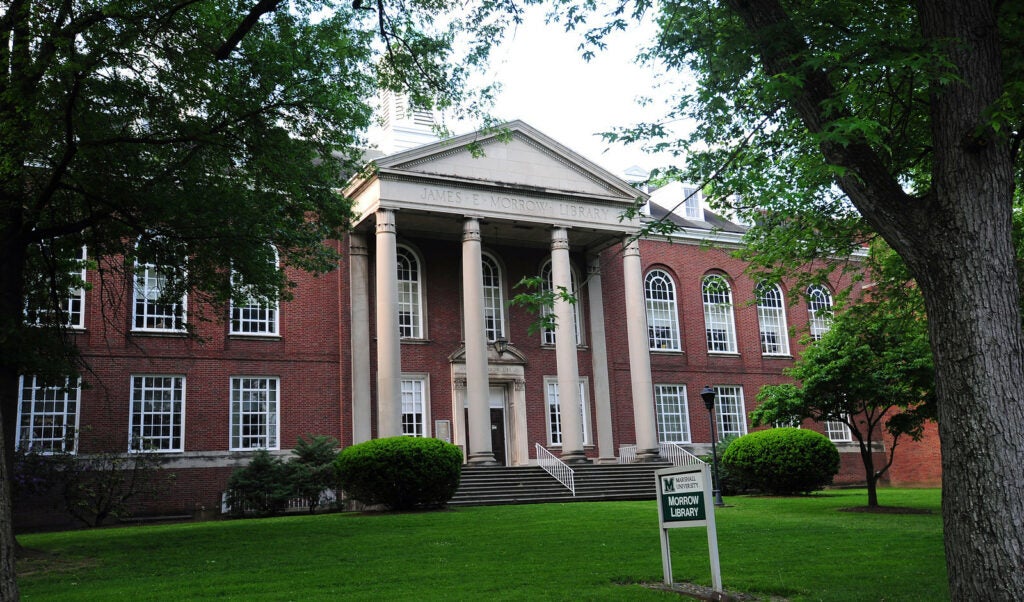 Introduction
"As libraries move into the digital age, Morrow Library, recognizing the fact that all knowledge, to have a strong foundation, builds upon preceding knowledge and resources, is proud to take on the responsibility of respecting and maintaining our college's history and extensive traditional resources, while moving into the 21st century."
(Paris Webb, Librarian – Digital Resources/Systems Support)
About Morrow Library
Morrow Library, located on Third Avenue on the north side of campus, first opened to the public in 1930. It was partially funded by Dwight Morrow and dedicated to his father, James E. Morrow, (principal of Marshall College 1872-73). Portraits of Dwight, his Father James, and his mother Clara are displayed in the circulation area of Morrow Stacks.
James E. Morrow's grand-daughter, (Dwight Morrow's daughter), was Anne Spencer Morrow, who married aviation hero Charles A. Lindbergh. Anne was a successful aviatrix as well as the popular author of many works currently available in Morrow Library Stacks.
In 1967 an addition was added to the original structure which doubled its size to over 100,000 square feet. Recently, many areas of the interior of the building have been remodeled. Second and third floors and the north side of first floor have been completely renovated. In addition, the facility has also been undergoing technology upgrades. Wireless connectivity is available in much of the building.
Morrow Library houses the Morrow Stacks on the 1st floor, and Special Collections on 2nd floor. In addition, the University's Testing Center is located on the Ground floor.
For some additional information and photographs of Morrow Library History see the Buildings of Marshall: Past and Present
Stacks Services
Morrow Stacks contains approximately two thirds of the campus' book collection. In addition, issues of currently received periodical titles dating before January 1996 and all completed titles are housed here.
The entrance is located on second floor of the Morrow Library Building. (Please use the campus-side entrance as the 3rd Avenue entrance is no longer accessible.)
The Stacks are open to faculty, staff, students and the community (see additional policies below). Books can be checked out with a valid MUID. A points card copier is available in the circulation area for copying non-circulating materials. (Please contact Drinko Library Circulation for details about Points Copy Cards.)
In addition to the Circulation Policies outlined below, Morrow Library Stacks requires a MUID in order to enter the Stacks. You must also sign in at the Circulation Desk. Community patrons may leave another form of picture ID when entering. However, please remember that a MUID is necessary for checking out materials.
Circulation / Collection Access & Services
Morrow Library and Stacks Floor Maps
James E. Morrow Library had four floors, (Ground or Basement, 1st Floor, 2nd Floor, and Attic), in its original building area. The Stacks Tower and wrap around addition added in the 1960's involved lowering of ceilings and creating additional floors. For that reason, there are now five floors in the original building area and seven floors once you enter the Stacks area in the East Wing. At the opposite end of the building, in the West Wing, there are only five floors.
The Morrow Library Stacks Tower has seven floors: Ground Floor or G; GM; 1; 1M; 2; and 2M. (F3 is not currently open to the public as it is part of Special Collections'stack area.) The Stacks Tower contains 3 floors of books and 2 floors of periodicals, journals, and magazines.
A reorganization of the Morrow Library Stacks was completed on Sep. 6, 2012. The book collection is now located on Floors 2, 1M, and 1 and the periodical collection is now located on Floors GM and G. Both collections are now shelved according to the Library of Congress Classification System.
Note: If you need assistance, we encourage you to come to the Service Desk in Special Collections at the entrance to the stacks.