Ask A Question
Library Resources
Doing Research
Available Services
University Resources
Access Library Databases From Off-Campus
You will see this remote login form when you click on a link to an article database from off-campus: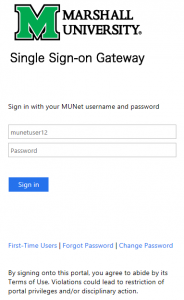 Questions?
Find Library Materials Order Articles That Are Not Available Online
Use Information Delivery Services (IDS) to order articles and books. As an off-campus or distance student you can order books and articles to be mailed to you at your home address. A photocopying fee or return mailing costs may apply.
Find Out If A Specific Periodical Is Available Online
Search Journals Search, typing in the specific periodical title you are looking for. If the periodical is available online, you will see a database name where you can view full-text articles from that periodical. Use Browsine to browse full-text scholarly journals by title, subject or ISSN and download articles. Track your favorite journals using My Bookshelf.
Find Books
Search the library catalog to locate books, videos, sound recordings, government documents, and other items in the Marshall University libraries. Order items through your IDS account. Links to our collections of e-books are available at e-resources.
Find Articles
Use a library database to locate full-text articles as well as citations to articles.
A good place to begin your research is with Academic Search Complete from EBSCOHost where you will find numerous full-text articles that you can print off.
For extensive news coverage (including the full-text of the Charleston papers), try Nexis Uni, also full-text.
Use the databases list to select a subject-specific database: All Databases by Title
Items that you cannot access full-text online can be ordered through your IDS account.