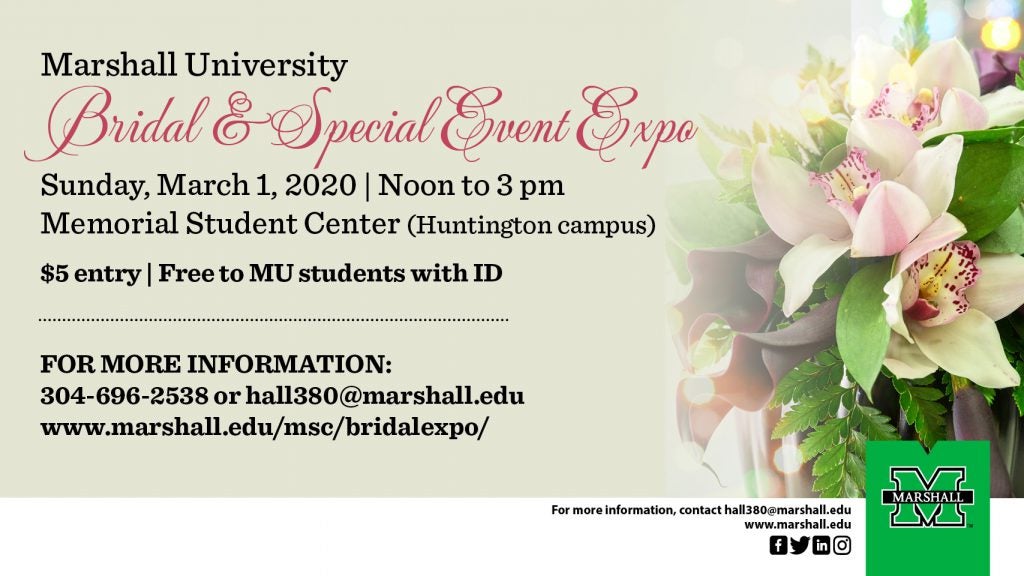 General Information
Marshall University will host the 5th annual Bridal and Special Event Expo on Sunday, March 1, 2020 from noon to 3 p.m. on the university's Huntington campus.
The event will be held in the Memorial Student Center with exhibits available for any wedding or special event, according to William "Tootie" Carter, business manager for the student center.
"Our expo is truly a one-stop shop for all your special event needs whether it's an elaborate affair such as a wedding reception or a small holiday party and everything in between," Carter said. "All of our venues can accommodate from 5 to 500 guests and Sodexo, our exclusive catering partner, will be on-site to discuss all food options."
Pre-registration is now open for vendors and while there is no cost to apply, a door prize worth $100 or more is requested.
Sponsors include exclusive catering vendor, Sodexo Catering, and Kindred Communications. Kindred WMGA Hits 97.9 will be on-site live during the expo, as well.
To learn more about Marshall University's Bridal and Special Event Expo, visit their event page on Facebook.
Vendor Information
The vendor fee has been waived for companies and we ask vendors to offer a door prize valued at $100 or more. Door prizes for the event include gift certificates from local retailers and merchandise for your special event.
To pre-register as a vendor for the event, fill out the vendor application form and send it to the university's facilities scheduling manager Casey Hall at hall380@marshall.edu, fax it to 304-696-4350, drop it off in person in the Memorial Student Center's 2W20 or via direct mail:
ATTN: Casey Hall
Facilities Scheduling Office
Memorial Student Center 2W20
Marshall University
One John Marshall Drive
Huntington, WV 25755
To learn more about becoming a vendor, please feel free to call 304-696-2538.
Bride & Special Guest Information
List of 2019 Vendors & Door Prizes
Sodexo Catering
Picture This WV (free green screen party worth $300)
The Rental Party ($100 fresh flower centerpiece)
Classy Limousine
Devin Hilton Photography ($100 off photo or video)
TMD Productions (gift certificate)
Jessica Hutchinson Photography (free 20 minute session & 20 digital photos)
Lavender Photography (free engagement session)
Mary Kay Cosmetics ($200 gift basket)
Elite Electrolysis Center (1 hour gift certificate for permanent hair removal)
BRAVO-Live DJ (2 part 'sweets & mug set')
Be Merry Events (1 custom monogram lighting)
Paparazzi Jewelry (jewelry)
Designer Tans by Crystal (free spray tan)
Huntington YMCA (3 month membership)
Lee Tabor, Officiant ($100 off officiant booking)
Firefly Designs (10% off invitation suite)
Travel Doctors (will not be present, but offering two $100 gift certificates)
Alyssa B. Events, LLC ($100 in wedding services)
Emmy & Zoey Productions (two coupons)
Spurlock's Flowers
Rodan & Fields (products and samples)
Color Street (8 sets of nails)
NHI Bridal Registry, Inc. (2 ring vouchers worth $600 each)
Nerium ($100 gift certificate)
Skeffington's (two $25 gift cards)
Ashland/Boyd County Tourism (plate from Pollock's Jewelers)
SeneGence (Lipsense collection)
Camila's Jewelry ($150 gift)
The Dressmaker's Closet (bridal sash and pearl necklace)
Bridal Registry, Inc. (two ring vouchers, valued at $600 each)
Laura McComas Tupperware
Cake Walk Designs (set of stainless steel bowls)
The Boutique by B.Belle Events (free veil)
Thirty-One Gifts (retro-metro weekender + $10 gift card)
Designworks by Davis (custom illuminated wedding announcement with gilding)
Wellman O'Shea Jewelers
…And Many More!
Participants can buy tickets at the door the day of the event for $5.  Tickets are free to Marshall students who present their MU ID.
Contact Us
Student Center Operations Office
Facilities Scheduling Office