Information Desk / Dry Cleaning Service
304-696-2365
Provides a source of information and direction for visitors. This area also provides a convenient drop-off and pickup point for dry cleaning and laundry service.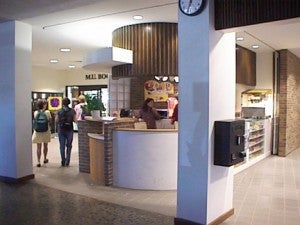 Points Deposits
The black box shown on the column is a VTS for making deposits or account inquiries for the MU ID Points Plan (debit card system).  Funds can be deposited in cash only at this location.  For more information on the Points plan, please visit the Campus Card Office website.
Electronic Post Office
Located on the main level next to the information desk, the e-Post Office is a joint venture between the Memorial Student Center and Computing Services and provides convenient access to email and the Internet. Currently, our e-Post Office houses six terminals and a laser printer. If you need hard copy and do not have sufficient points on your MUID, a VTS for deposits is located on the pillar near the information desk (see photo above).
Computer Lab
Located on the lower level of the building, the computer lab contains 20 computer stations as well as a print station. These state-of-the-art computers are identical to those found in the Drinko Library 24 Hour Study Center which is managed and operated by University Computing Services. The computers provide the full complement of academic and research software found in other University Computing Services Sites (UCS Sites). During fall and spring semesters, the computer lab is open during regular building hours. The computer lab is closed during the summer.
Vending Machines
Vending machines are located on the main floor near the information desk and on the lower level in the Recreation Area.  Choices include Pepsi, Diet Pepsi, Mountain Dew, Gatorade, coffee, and snacks, to name a few.
Mail Box
A US Postal Service mail box is located outside on the southwest corner of John Marshall Drive beside Drinko Library.