The West Virginia Autism Training Center (WV ATC) is a statewide technical assistance and direct service agency providing specialized training and support to individuals with Autism Spectrum Disorder, their families, educators, and other professionals and community members throughout the state of West Virginia. The center's mission is to provide support to individuals with Autism Spectrum Disorder as they pursue a life of quality.
Envisioned in the early 1980's and spearheaded by Dr. Ruth C. Sullivan, parents of children diagnosed with autism convinced the West Virginia State Legislature of the need for families and educators to learn how to effectively support and teach individuals with autism in their communities. Their efforts resulted in the passage of a bill that established the center in 1984. Since that time, the WV ATC has served nearly 4000 families and well over 5000 educators.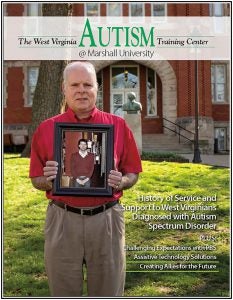 The WV ATC utilizes a system of multi-tiered Person Centered Direct Services to provide West Virginians with autism, and those who support them, with person-centered planning and data-driven supports in the home, school, and community settings. These services are provided at no cost to registered families living within West Virginia.
Through creative and collaborative efforts, the center's commitment to enhanced quality of life has also contributed to the development of several additional programs including the College Program for Students with ASD in 2002 and various Positive Behavior Intervention and Support Technical Assistance Programs in 2014.
In addition to Direct Services for registered families, the WV ATC's College Program assists students with ASD in navigating the college experience through individualized academic, social, and independent living skill supports. The College Program is located at Marshall University in Huntington.
The WV Behavioral and Mental Health Technical Assistance Center resulted from a collaboration between the WV ATC and the West Virginia Department of Education's Office of Special Education and Student Support. The WV BMHTAC assists teachers, students, families and communities that are faced with challenging behavior and mental health issues through training, resources, and promotion of evidence-based strategies and interventions.
Although programs and service delivery models have evolved, the WV ATC remains dedicated to continuing its legacy of supporting individuals with Autism Spectrum Disorder throughout West Virginia as they pursue a life of quality.