Annual Newsletters
|2022 | 2019 | 2018 | 2017 | 2016| 2015 | 2014
February 2020
Dr. Leslie Hicks (B.S. in Chemistry, ACS Certified, Class of 2001) won the University of North Carolina at Chapel Hill's William C. Friday/Class of 1986 Award for Excellence in Teaching.  "The award, created by members of the class of 1986, recognizes one member of the faculty per year who has exemplified excellence in inspirational teaching. The winner is selected from all full-time faculty who teach undergraduates."  Dr. Hicks is a bioanalytical chemistry faculty member in the Chemistry Department at UNC.  In her award interview, she credited Bill Price of this department as being the best teacher she has had.
October 2019
Prof. Rosalynn Quiñones was a participant in the (West Virginia) Women & Technology Conference held in Charleston on October 21 at the Embassy Suites Hotel.  This year's conference addressed "the under-representation of women in the fields of science, technology, engineering and math (STEM), while also encouraging women to excel in these fields."  Rosalynn was one  of only four faculty members selected to make a presentation.  More information about the conference and a list of all 25 presenters may be found at: https://wvpress.org/wvpa-sharing/media-alert-photo-from-2019-women-technology-conference/.
July 2019
Professor emeritus Gary D. Anderson was named an American Chemical Society Fellow.  The ACS Fellows program  recognizes members of ACS for outstanding achievements in and contributions to science, the profession, and the Society.  Gary's accomplishments are incredible both in sheer number and in importance.  For example, he has occupied every senior role in the chemistry professional fraternity Alpha Chi Sigma and won its lifetime achievement (John Kubler) award.  He has played a senior role at the Chemical Heritage Foundation. Gary has chaired and been a member of numerous ACS committees as well.  At Marshall, Gary was the first chemistry faculty member to win the university's Distinguished Service Award and was instrumental in introducing electronic courses on campus.
April 2019
Jessica Crislip and Yiannakis Lysandrou are two of ten Marshall undergraduates selected to participate in its Summer Undergraduate Research Experience (SURE) Fellowship program.  Each year, ten students are selected for this program, which is sponsored by the West Virginia Higher Education Policy Commission's Division of Science and Research.  The students spend 10 weeks working in the laboratory of a faculty member (Profs. Derrick Kolling and John Markiewicz, respectively) to better develop their scientific skills.  The Huntington Herald Dispatch covered this with an article.
Prof. Rosalynn Quiñones was granted tenure and was promoted to Associate Professor.  Rosalynn has accomplished quite a lot as an Assistant Professor.  She has mentored 17 different undergraduate students on research projects over the past six years, more than half of whom have presented their work at professional meetings.  She and her students have published an amazing 7 papers earning her Marshall's junior faculty member Distinguished Artists and Scholars Award.  Her service has likewise been recognized through consecutive Faculty-in-Residence Awards from Marshall.  She routinely does national service as well, for example being a member of the Chemical Heritage Foundation's content committee for their You Be the Chemist national competition for children since 2013.
This month, Profs. Laura McCunn, Bob Morgan, Mike Norton, and Rosalynn Quiñones and John Rakus led groups of students to the American Chemical Society's National Meeting in New Orleans and the American Society for Biochemistry and Molecular Biology's national meeting in Orlando, respectively. In all, 12 undergraduate and 4 Masters students traveled to these meetings, nearly all of whom presented their work as part of the trip.
March 2019
Prof. Laura McCunn was awarded a 2-year, $100,000 grant by the US Department of Energy to study the thermal decomposition of cyclic, oxygenated hydrocarbons.  These molecules frequently occur in the processing of plant material into biofuels, so it is important to understand how they react at high temperatures in order to predict the efficiency and environmental impact of biofuels.  She and her students will also construct a quadrupole mass spectrometer to expand their capabilities in detecting thermal decomposition products.  The grant provides funds to hire two undergraduate students, in addition to purchasing supplies.  The Huntington Herald-Dispatch wrote an article on this grant.
Prof. Derrick Kolling published a paper in the journal Chemosphere titled "Characterizing the effect of Poast on Chlorella vulgaris, a non-target organism" (Vol. 219, pp. 704-712).  Amanda L. Smythers, Armin Garmany, Nicole L. Perry, Ethan L. Higginbotham, P. Ethan Adkins were student co-authors.  Smythers et al. determined that recommended applications of a commercially available herbicide, Poast®, result in catastrophic damage to the photosynthetic machinery of algae. Interestingly, the active ingredient, sethoxydim, in the herbicide formulation does not by itself induce this damage.
Professor Derrick Kolling and Ms. Amanda Smythers participated in Mad Scientist Day at Southside Elementary School on March 22, 2019. They edutained ~500 K-5 students during a morning assembly and ~100 1st graders in afternoon sessions. Students were shown and participated in chemistry demonstrations and activities, informed about research at MU, and which organizations support this research (NSF). The event was covered by the Herald Dispatch and photos can be found at: https://www.herald-dispatch.com/multimedia/photos-mad-scientist-day-at-southside-elementary/collection_2c2e01ea-4cdc-11e9-80b6-2b61e4cfdfba.html#11.
January 2019
Prof. Emeritus Joseph L. Roberts passed away at his home in Amity, GA.  He was 89 years old.  Joe received his bachelor's degree in chemistry from Oglethorpe College in 1953, an M.S. in Chemistry from the University of South Dakota in 1955, and a Ph.D. in Chemistry from the University of Cincinnati in 1964.  He was a faculty member in chemistry at Marshall from 1966 until his retirement in 1997.  After retirement he split his time between Huntington and Amity.  Joe had longstanding interests in music (he played for the Atlanta Symphony Orchestra in college), firefighting, and computers.  He was an avid Marshall sports fan as well.  Joe is survived by his wife June, children Darryl and Mike, and grandchildren Chris, Sarah, Evy, William, and Thomas.  We will miss him.  For more about Joe's life, please see a piece written about him in the Lincoln (Georgia) Journal.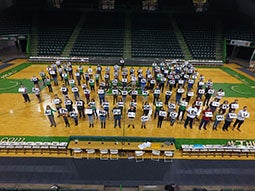 The United Nations Educational, Scientific and Cultural Organization (UNESCO) has designated 2019 as the International Year of the Periodic Table in commemoration of the 150th anniversary of the formation of the modern periodic table by Russian scientist Dmitri Mendeleev in 1869.   The American Chemical Society held a national contest for groups to represent the periodic table in ways they thought would be interesting.  A student, Amanda Smthyers, suggested that we create a large, human periodic table.  The Department brought together faculty from across the College of Science and School of Medicine, students, administrators on the main basketball court in the Cam Henderson Center to accomplish this.  Joining us were President Gilbert, Provost Taylor, and Vice-President for Research Maher (who is also a chemist).
It was an amazingly fun event, which was sponsored by Contemporary Galleries of Charleston.
Click here for previous news.