For more about Graduate Humanities, our Program newsletter published bi-annually without interruption since 1977, see here.
---
Upcoming Events . . .
Spring 2016
Public Lecture, of the Spring 2016 Graduate Humanities Major Scholar Seminar
Dr. Clyde Ellis, March 10, 4 p.m.: "Powwow as Ethnohistory: Traditions of Change and Adaptation." Marshall University Student Center, Student Resource Center Conference Room, 2W16. Free and Open to the Public. A reception will follow.
---
Past Programs and Events . . .
– listed by semester, latest first –
Spring 2015
Fall 2014
September 9, 7 p.m., GC 134
"Archaeology of Frontier Forts in West Virginia," presented by W. Stephen McBride, PhD
Dr. Stephen McBride (McBride Preservation Services, LLC) is an historical archeologist with a special interest in eighteenth century frontier settlement and the Civil War.  He holds a Doctorate degree in Anthropology from Michigan State University, and serves as the Director of Interpretation and Archaeology at Camp Nelson Civil War Heritage Park, Jessamine County, Kentucky, and manager of McBride Preservation Services, LLC.  Dr. McBride has directed excavations on many eighteenth and nineteenth century sites in West Virginia, Kentucky, and Virginia and written numerous articles for journals and edited volumes as well as archeological reports.  His recent co-authored publication, Frontier Forts of West Virginia: Historical and Archaeological Explorations, published by the West Virginia Division of Culture and History, has been distributed widely to the general public.
/
This public lecture, offered as a component of Dr. Maslowski's Fall 2014 Time & Place in Appalachia seminar, is funded by the West Virginia Humanities Council.
Spring 2014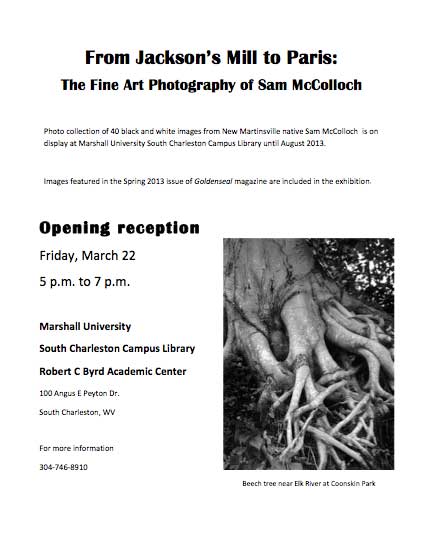 Sponsored by University Libraries — Graduate College South Charleston Library
---
Spring 2012
---
Fall 2011
---
Summer 2011
---
Spring 2011
---
Fall 2010
---
---
Fall 2009
---
Spring 2009
Public Showing of Black Diamonds: Mountaintop Removal and the Fight for Coalfield Justice
Wednesday, March 4, 7 p.m., GC 319: Public Showing of Black Diamonds: Mountaintop Removal and the Fight for Coalfield Justice Wednesday, March 11, 7 p.m., GC 319: Talk by the filmmaker, Catherine Pancake
(reception and discussion to follow)
Videos of the Opening Video by Annette Conner: See her class blog here See the Charleston Gazette article here
---
Fall 2008
---
Fall 2007
---
Summer 2007
---
Spring 2007
---
Fall 2006
---
Fall 2005
Humanities Faculty Robert Maslowski and Daniel Boyd screen new film