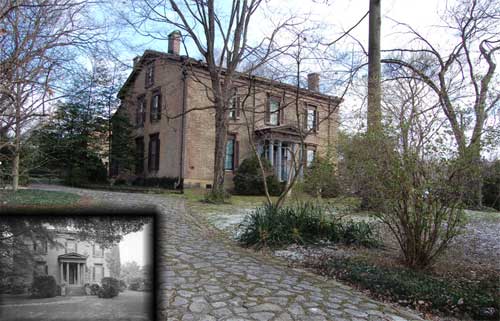 The Glenwood Project is a Graduate Humanities Program initiative to facilitate public engagement with the rich history of the Glenwood Estate in West Charleston, now owned and maintained by the Historic Glenwood Foundation (formerly the Marshall University Graduate College Foundation).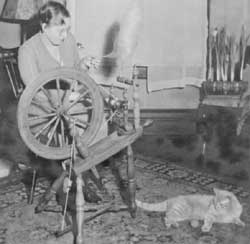 The Glenwood Estate is a pre-civil war mansion that housed the Laidleys, Summerses and Quarriers, three of Kanawha County's most prominent families. The house was built in 1852 on a vast estate with 366 acres extending from Delaware Avenue, Somerset Drive and the Chandler Branch of Edgewood Hills to the bottomland of the Kanawha River. In 1857 James Laidley—the founder of the Charleston newspaper, The Western Register—had financial difficulties and sold the estate to George W. Summers. The house was inherited through the families until Summers' great-granddaughter, Lucy Quarrier—the home's last owner (and pictured here at her spinning wheel circa 1935)—deeded the estate to the West Virginia College of Graduate Studies (now MUGC) Foundation in 1978.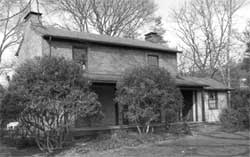 The Glenwood Estate represents a complex intersection of North and South—for example, one of the estate's earliest owners, Judge George W. Summers, was a slave-owning Unionist (the slave/servant quarters, still standing today, are pictured to the left). As such, it provides a unique window into the complex history of Charleston, the Kanawha Valley, and West Virginia.
Much of the estate's history is contained in the documents and material culture of the Glenwood Estate. The Glenwood Project seeks to engage this complex history and make it more publicly accessible via archaeological and historical analysis, the development of an archival database, public workshops and seminars, Graduate Humanities Program curricula, and other events and activities.
Research and Dissemination Activities: Phases I – III
The Glenwood Project was initially funded through a partnership with the West Virginia Humanities Council, Council for West Virginia Archaeology, Kanawha Valley Historical & Preservation Society, Historic Glenwood Foundation, College of Education and Professional Development, and College of Liberal Arts.
New and current phases of the project are ongoing, now conducted through the auspices of the Glenwood Center for Scholarship in the Humanities. The original project was split into three phases, undertaken from 2006-2007 (Phase I); 2008-2010 (Phase II); and 2011-2012 (Phase III).  Here are some of the highlights:
Phase I (2006 – 2007): Glenwood Histories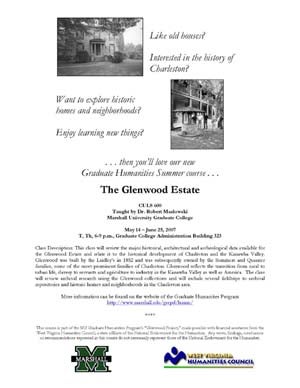 Video by Annette Conner: See her class blog here
The Glenwood Traveling Exhibit traveled to the following locations during the 2009 – 2010 year:
January 23 – March 6, 2009: MUGC Library, Marshall University Graduate College, South Charleston
March 9 – April 17: Drinko Library, Marshall University, Huntington
April 20 – May 29: Cabell County Public Library, Huntington
June 1 – July 10: Unitarian Universalist Congregation, Charleston
July 13 – August 21: Habitat for Humanity, Charleston
August 24 – October 2: First Presbyterian Church, Charleston
October 5 – November 13: Kanawha County Public Library, Charleston
November 16 – December 31: Federal Building, Charleston
January 4 – February 15, 2010: Montgomery Public Library, Montgomery
Phase III (2011 – 2013): Oral Histories