Congratulations to Honors Students and Yeager Scholars Liz Adams and Hunter Barclay, along with their teammates in 42 Peaks, for advancing in Intuit's first Innovating for Impact design challenge. Innovating for Impact, a collaboration between Marshall University and Intuit, included seven teams that received training on innovation from Intuit leadership, and applied key principles to three spec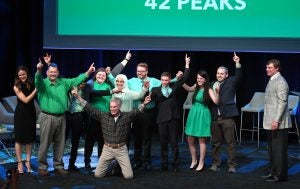 ific challenges facing West Virginia today: providing educational opportunities for youth in rural communities, battling substance abuse and creating technology-based jobs in the state.
Members of 42 Peaks designed an app to connect people to resources, support groups, community events, peers with similar experiences, real-time video mentors and other resources. Liz, Hunter, and the other members of the top three teams, will receive a trip to Silicon Valley and San Francisco, where they will receive a two-day immersive experience to explore some of the top technology companies, and gain hands-on experience collaborating with an Intuit Design for Delight team and receiving additional coaching.
Actress Jennifer Garner, NFL football legend and Marshall alumnus Chad Pennington and Intuit CEO Brad Smith coached and selected the three teams during a finale event held at Marshall's Joan C. Edwards Playhouse. "At Intuit, our mission is to power prosperity around the world, and youth are a large part of building a more prosperous future. By sharing our tried-and-true Design for Delight innovation principles with some of the bright, young minds at Marshall, we are taking a step forward to make a lasting impact in this community," said Smith.
For more information, please visit http://www.marshall.edu/ucomm/2017/04/27/marshall-students-work-solve-west-virginias-biggest-challenges/