As described by the Marshall University Foundation, Marshall University is state-assisted, but not fully state-funded. Today, government dollars continue to decline. Private dollars help make the difference to keep Marshall one of the most distinctive, highly-regarded, yet affordable public universities in the nation.
Giving to Marshall means you believe the education provided at our university will prepare students for a career in their desired field. It means you believe Marshall teaches life skills and sets standards through many accredited programs that make students strive for success. Giving to Marshall through scholarships means you are providing a student the opportunity to attend college who otherwise could not afford their dream. We encourage you to demonstrate your leadership and support for higher education by considering endowing a scholarship.
Your generosity can make a huge impact. Gifts to the Annual Fund help provide at-the-ready resources like scholarships, campus technology, and student travel. Your generosity will also unite you with the Thundering Herd community as an active member of the Marshall University Alumni Association.
The Marshall University Foundation is a federally-recognized 501(c)(3) non-profit organization. Gifts to the Foundation are therefore tax deductible to the fullest extent of the law.
A contribution can be made to the Honors College through the Marshall University Foundation in two ways.
Online
Simply visit the Foundation's convenient donation portal. In the "I would like my gift to benefit" drop-down menu, please select Honors College.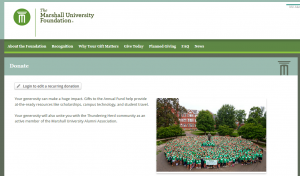 ---
By Mail
If mailing a check to the Foundation, please be sure to include "Honors College" on the memo line. Checks can be made payable to:
Marshall University Foundation, Inc.
519 John Marshall Dr.
Huntington, WV 25703