Courses: Honors Seminars and Honors-Designated
Honors Seminars (HON 480)
Spring 2019
Click here for descriptions of our Spring 2019 seminars.
Course
 
 
Meetings & Location
Instructor/s
General Education Attributes
HON 480
201
SpTp: Reading Infinite Jest
MW, 2:00p – 3:15p
OM 230
Young, John
Writing Intensive
HON 480
202
SpTp: Polio
TR, 12:30p – 1:45p
OM 353
LoCascio, Nicola
HON 480
203
SpTp: Death and its Aftermath
TR, 2:00p – 3:15p
HH 403
Conley Riner, Robin; Franzen, Christina
HON 480
204
SpTp: A.Hamilton: Hip-Hop Muse
TR, 2:00p – 3:15p
OM 314
Proctor, Patricia
HON 480
205
SpTp: Crit Thinking Soc Media
TR, 4:00p – 5:15p
SH 628
Kinghorn, Brian
HON 480
206
SpTp: Spanish Art XVI-XX Cent
W, 4:00p – 6:20p
SH 437
Gratchev, Viatcheslav
HON 480
207
SpTp: Internet Famous
R, 4:00p – 6:20p
HH 342
Fugett, April; Black, Britani
Writing Intensive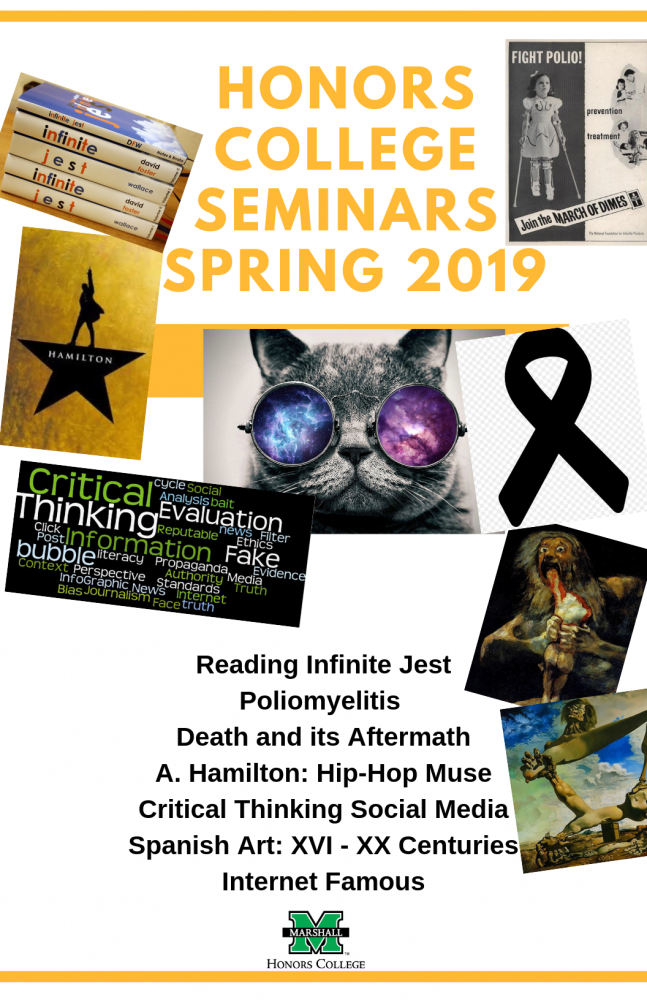 Click here for our Honors Seminar Archives
---
Honors Seminars (First or Second Year) and Honors Designated Courses
The following lists are of Honors Seminars (First and Second Year) and departmentally designated honors-sections of courses. In fulfilling General Education requirements at Marshall (Core I, Core II, and Additional University Requirements as seen in Degree Works), we advise our students to take honors-sections (any course with an "H" at the end, such as ANT201H or CMM104H) as much as possible as a means to complete both the required 12-hours of "general" honors credits of the Honors Curriculum as well as their General Education requirements at the same time. The first two lists are of mandatory first- and second-year Honors Seminars (i.e., FYS 100H and HON 200). Together with a minimum of two HON 480 Honors Seminars (the list above), these two different seminar courses complete the remaining 12-hours out of the total 24-hours of the Honors Curriculum.
Spring 2019
Course
Meetings & Location
Instructor
General Education Attributes
Honors Seminar Courses (First Year)
FYS 100H
201
3337
First Year Seminar-Honors
MWF, 09:00a – 09:50a
HH 137
Welch, Mary
Core I Curriculum
FYS 100H
202
3338
First Year Seminar-Honors
MWF, 10:00a – 10:50a
SH 108
Mummert, Anna
Core I Curriculum
FYS 100H
203
3339
First Year Seminar-Honors
MWF, 11:00a – 11:50a
HH 229
Welch, Mary
Core I Curriculum
FYS 100H
204
3340
First Year Seminar-Honors
TR, 11:00a – 12:15p
HH 302
Proctor, Patricia
Core I Curriculum
FYS 100H
205
3341
First Year Seminar-Honors
TR, 12:30p – 1:45p
HH 137
Ingersoll, Christine
Core I Curriculum
Honors Seminar Courses (Second Year)
HON 200
201
3419
Second Year Seminar
TR, 11:00a – 12:15p
WAEC 1101
Davis, Sarah
HON 200
202
3420
Second Year Seminar
MW, 5:00p – 6:20p
CH 436
James, Matthew
HON 200
203
3421
Second Year Seminar
T, 4:00p – 6:20p
HH 229
Wolfe, Elizabeth
HON 200
204
3422
Second Year Seminar
W, 6:30p – 9:00p
HH 229
Biggs, Michelle
HON 200
205
3423
Second Year Seminar
R, 4:00p-6:20p
HH 229
McClennen, Molly
Departmental Honors-Designated Courses
ANT 201H
201
2053
Cultural Anthropology Honors (CT)
TR, 11:00a – 12:15p
SH 529
Conley Riner, Robin
Critical Thinking, International, Social Sciences Core II
CHM 218H
201
2396
Principles of Chem Honor Lab II
TR, 08:00a – 09:15a
S 465
Castellani, Michael
CHM 361H
201
2411
Intro Honors Organic Chem Lab
TR, 2:00p – 2:50p
TR, 3:00p – 4:50p
S 405
S 412
Markiewicz, John
CHM 390H
201
2414
Honors in Chemistry
HTN TBA
Castellani, Michael
CMM 104H
201
2734
Honors in Speech Comm
TR, 09:30a – 10:45a
SH 232
Adkins, Clara
Communication Studies
CMM 104H
202
2735
Honors in Speech Comm
TR, 11:00a – 12:15p
SH 232
Adkins, Clara
Communication Studies
ENG 200H
201
3027
Texting the World (CT)
MWF, 10:00a – 10:50a
CH 306
Lawrence, Angela
Critical Thinking
ENG 200H
202
3028
Texting the World (CT)
MW, 2:00p – 3:15p
CH 306
Daniel, Abby
Critical Thinking,
Writing Intensive
ENG 200H
203
3029
Texting the World (CT)
TR, 11:00a – 12:15p
CH 408
Sullivan, Margaret
Critical Thinking
HST 102H
201
3537
World & West 1300-1850 (CT)
MWF, 09:00a – 09:50a
HH 136
Rutherford, Phillip
Critical Thinking,
Multicultural
MUS 604H
201
4280
Woodwind Literature
HTN TBA
STAFF
PSY 201H
201
4732
General Psychology-Honors (CT)
MWF, 10:00a – 10:50a
HH 302
Corbett-Alderman, Tammy
Critical Thinking
SOC 200H
201
5015
Intro Sociology Honors (CT)
TR, 09:30a – 10:45a
SH 529
Roth, Frederick
American Institutions, Critical Thinking,
Multicultural, Social Science Core II
SOC 200H
202
5016
Intro Sociology Honors (CT)
TR, 12:30p – 1:45p
SH 530
Sullivan, Donna
American Institutions, Critical Thinking,
Multicultural, Writing Intensive, Science Core II