Welcome
Welcome to the Honors College at Marshall University. For our incoming students, you have made a great decision to join us and we encourage you to be involved with the Honors College's events, experiences and resources. Established in the Fall of 2010 under the auspices of the founding Dean, Dr. Mary Todd, the Honors College now has over 500 students. We are home to an energetic and exciting group of scholars representing many different majors and interests at Marshall University. Our honors curriculum of small interdisciplinary seminars, developed by talented faculty, is designed for thoughtful and highly capable students using authentic learning and ethical scholarship. The Honors College at Marshall University is never static and is continuously renewed and transformed by new faculty, new students, and new ideas.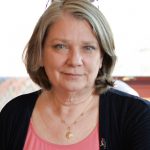 Nicola J. LoCascio, Ph.D., Dean
Our Mission
The Honors College at Marshall University fosters academic excellence in a community of learners whose undergraduate education is enhanced through innovative teaching and learning, an engaging interdisciplinary curriculum, creative and critical inquiry with talented faculty, and diverse leadership and service opportunities.