Violence, Loss and Trauma (VoLT)
This unique Graduate Certificate of Study will revolutionize your understanding of violence, loss, and trauma, and will equip you with specialized skills for the treatment of trauma spectrum disorders in children and adults. By completing this certificate you will gain an understanding of trauma, complex trauma, developmental trauma, dissociation, and complex bereavement, including working with children, survivors, and perpetrators. This certificate is offered through online, distance learning coursework of 18 graduate credit hours.
Topics include:
• Trauma and trauma-spectrum disorders
• Addictions and trauma
• Complex and developmental trauma
• Grief, bereavement, and complex bereavement
• Attachment theory and attachment disorders
• Neurobiology of traumatic stress
• Domestic violence
• Military trauma
• Treatment of children, survivors, and perpetrators
• Existential aspects of suffering and resilience
• Self-regulation, grounding, treatment planning
• Vicarious trauma and practitioner self-care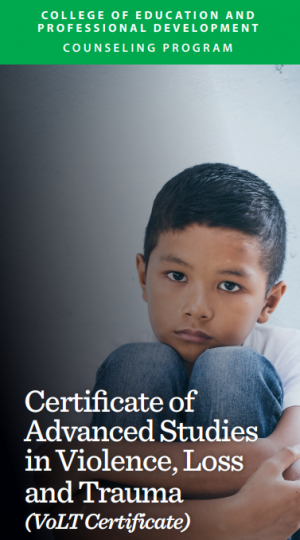 The graduate VoLT Certificate offers comprehensive understanding of how violence, loss and trauma affect lives. It also prepares practitioners for creative, expressive, and experiential interventions that promote resilience, self-care, and personal responsibility for a life well-lived. The certificate not only prepares you for planning mental health treatment for others in the future, but also how to care for yourself as well.
VoLT Course Descriptions
The VoLT Certificate requires completion of COUN 555, 556, 654, and 682; and two electives from the following list, for a total of six 3-credit courses (18 credits total).



COUN 555 Crisis Intervention and Conflict Resolution. (Pre-requisite for remaining VoLT Courses)

Students explore types, effects, and interventions for crisis, disasters, and other trauma-causing events across the lifespan.  Specific topics include ethics, self-care, cultural competence, suicide/homicide, intimate partner violence, sexual assault, emergency preparedness, disaster mental health, grief, and bereavement.

COUN 556 Death and Grief Counseling. (Required)

A study of the stages of death, dying and the grief process are presented in practical, theoretical, social, and psychological aspects.  Emphasis on counseling relating to various forms of loss.

COUN 654 Family Violence. (Required)

The course will examine violence in families, covering ages from infancy to elder adulthood with a focus on variations in types of assault, violence, and abuse found within, among, or pertaining to family members across all ages.

COUN 682 Treatment in Trauma Recovery. (Required)

This course explores types of trauma experienced in modern society, the inter-and intrapersonal effects of trauma on clients, and an introduction to treatment modalities and evidence-based practice.

COUN 655 Counseling Victims, Perpetrators, and Children of Domestic Violence. (Elective)

This course will provide a foundation in assessment, treatment, and advocacy for victims, perpetrators, and children who have been involved in relationships or families where domestic violence has been present.

COUN 683 Psychophysiology of Trauma. (Elective)

This course explores effects of trauma on the central nervous system, psychomotor abilities and physiological and emotional responses to trauma, PTSD, and traumatic injury.

COUN 684 Treating Complex Trauma. (Elective)

This course focuses on the treatment of complex trauma and loss, through investigation of trauma theory, phases of post-traumatic recovery, evidence-based treatment, and practice implications for complex cases.

COUN 685 Military Culture and Treatment of Veterans. (Elective)

This course is designed to introduce students to the nature of military culture, the unique challenges of deployment and re-entry for both military personnel and their families, and various mental health best practices specific to those affected with combat-related PTSD, TBI, and other traumatic injury.

COUN 686 Trauma and Suffering. (Elective)

This course focuses on existential suffering caused by traumatic stress, and the counseling needs of affected individuals.  It explores the nature of suffering as well as a variety of philosophical, religious, and theoretical approaches to suffering.  The course presents best practices for clinical approaches within professional counseling.
VoLT Frequently Asked Questions



What IS the Violence, Loss, and Trauma (VoLT) Certificate?

The Certificate certifies that a given student has taken the initiative to complete six graduate-level courses focused on violence, loss, and trauma.  It is NOT a certification or a professional license. The Certificate is an on-line sequence of six 3-credit graduate-level courses offered by a CACREP-accredited graduate Counseling Program.  The VoLT courses prepare behavioral health therapists (and others in leadership and human support roles) to understand the scope, nature, and developmental effects of traumatic stress, the dynamics of interpersonal violence, bereavement, suffering, and the basic physiological consequences of trauma in order to help people across the lifespan survive trauma, integrate trauma into a coherent life story, and experience post-traumatic growth.

Who is best suited to complete the VoLT Certificate?

While the graduate-level Certificate was created for Professional Counselors and has a therapeutic/clinical focus, it is helpful for anyone with or completing a Master's Degree or Doctorate in any behavioral health discipline, and anyone working in a supportive or leadership capacity with human beings across the lifespan.  If you are wondering whether you qualify, reach out to Dr. Carol Smith at

carol.smith@marshall.edu

.

How does the Certificate work?

These are on-line, graduate-level content courses.  Occasional live class meetings are delivered through web-based videoconferencing software and scheduled in the early evenings.  The coursework is completed entirely online through

MUOnline/Blackboard

.

Yes.  Trauma is complex and requires our best responses. The VoLT Certificate represents advanced-level coursework, 8-10 hours per week (assuming 2 courses at a time).  The courses are dense and curated for leading developments in the field of traumatology.  In addition to readings, videos, and websites to review, courses emphasize experiential and integrative assignments that require students to do things rather than simply read about them. The learning experience is robust and requires critical thinking, analysis, synthesis, and application.  Course readings, assignments, and resources equip clinical professionals to provide evidence-based, therapeutic best practices for clients whose lives have been affected by violence, loss, or traumatic stress.  There is currently no clinical component (i.e., practicum, internship, field experiences, or requirements to work with real people in real life) to the VoLT Certificate; it is made up entirely of content courses.

Can these courses be transferred for graduate credit elsewhere?

Yes, some of the time.  Four of the six VoLT courses can be transferred into Marshall University's Clinical Mental Health Master's degree.  One of the six VoLT courses can be transferred into Marshall University's School Counseling Master's degree.  Some of the VoLT courses may be transferable to other degree programs at Marshall University or to a different university – check with your existing or intended program of study to confirm.

Is there Federal Financial Aid available for this Certificate?

Approval for Federal Financial Aid is currently being sought for the VoLT Certificate.  Check with

Student Financial Assistance

for updates.

I'm interested. What do I do next to get started?

If you are interested in the VoLT Certificate, and plan to apply or add it to your Plan of Study, contact the

Counseling Program

to schedule a

pre-admission interview

(via web-based videoconferencing software).

THEN, locate your status below and follow the instructions.

For current graduate students at Marshall University:

If you're a graduate student in Counseling, Psychology, Social Work, or Leadership Studies, contact your Academic Advisor and ask to Add a Second Program to your current Plan of Study. This requires a Secondary Program Request Form.
If you're a graduate student in a program (other than those listed immediately above) at Marshall University, contact the Counseling Program to determine whether to apply to the VoLT Certificate or add it as a Secondary Program.

For current graduate students outside Marshall University:
For those who already have a Master's degree:

I've finished my VoLT coursework. Now what?
Contact Us
Please contact Dr. Carol Smith for next steps.
Carol M. Smith, PhD, LPC, NCC, CCTP
Professor of Counseling
Coordinator, Violence, Loss, and Trauma Certificate
carol.smith@marshall.edu
304-746-1921
Dr. Jonathan Lent
Professor of Counseling
Counseling Program Director
lentj@marshall.edu
304-696-2912