Violence, Loss and Trauma (VoLT)
This unique Graduate Certificate of Study will revolutionize your understanding of violence, loss, and trauma, and will equip you with specialized skills for the treatment of trauma spectrum disorders in children and adults. By completing this certificate you will gain an understanding of trauma, complex trauma, developmental trauma, dissociation, and complex bereavement, including working with children, survivors, and perpetrators. This certificate is offered through online, distance learning coursework of 18 graduate credit hours.
Topics include:
Trauma and trauma-spectrum disorders
Addictions and trauma
Complex and developmental trauma
Grief, bereavement, and complex bereavement
Attachment theory and attachment disorders
Neurobiology of traumatic stress
Domestic violence
Military trauma
Treatment of children, survivors, and perpetrators
Existential aspects of suffering and resilience
Self-regulation, grounding, treatment planning
Vicarious trauma and practitioner self-care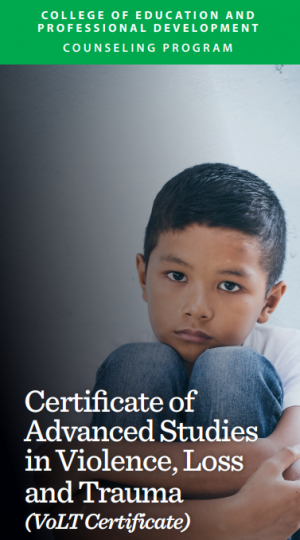 The graduate VoLT Certificate offers comprehensive understanding of how violence, loss and trauma affect lives. It also prepares practitioners for creative, expressive, and experiential interventions that promote resilience, self-care, and personal responsibility for a life well-lived. The certificate not only prepares you for planning mental health treatment for others in the future, but also how to care for yourself as well.
VoLT Course Descriptions
The VoLT Certificate requires completion of COUN 555, 556, 654, and 682; and two electives from the following list, for a total of six 3-credit courses (18 credits total).
COUN 555 Crisis Intervention and Conflict Resolution. (Pre-requisite for remaining VoLT Courses)
COUN 556 Death and Grief Counseling. (Required)
COUN 654 Family Violence. (Required)
COUN 682 Treatment in Trauma Recovery. (Required)
COUN 655 Counseling Victims, Perpetrators, and Children of Domestic Violence. (Elective)
COUN 683 Psychophysiology of Trauma. (Elective)
COUN 684 Treating Complex Trauma. (Elective)
COUN 685 Military Culture and Treatment of Veterans. (Elective)
COUN 686 Trauma and Suffering. (Elective)
VoLT Frequently Asked Questions
What IS the Violence, Loss, and Trauma (VoLT) Certificate?
Who is best suited to complete the VoLT Certificate?
How does the Certificate work?
Can these courses be transferred for graduate credit elsewhere?
Is there Federal Financial Aid available for this Certificate?
I'm interested. What do I do next to get started?
I've finished my VoLT coursework. Now what?
Contact Us
Please contact Dr. Carol Smith for next steps.
Carol M. Smith, PhD, LPC, NCC, CCTP
Professor of Counseling
Coordinator, Violence, Loss, and Trauma Certificate
carol.smith@marshall.edu
304-746-1921
Dr. Jonathan Lent
Professor of Counseling
Counseling Program Director
lentj@marshall.edu
304-696-2912