Check out events and programs below!
In an effort to reduce the risk of gender discrimination, and sexual misconduct such as sexual harassment and sexual violence, including the crimes of rape, sexual assault, stalking, dating violence, and domestic violence occurring among students and employees, Marshall University utilizes a range of campaigns, strategies, and initiatives to promote awareness, education, risk reduction, and prevention programming and training.
Upcoming Events
Stalking Prevention, Awareness, and Resource Center (SPARC) national webinar series related to identifying and responding to stalking on campus –
Wednesday, November 8, 2023 – Risk Assessment, Safety Planning, and Systems Response: Case Study of Lauren McCluskey at 2 p.m.
January 2024 – Stalking Awareness Month
Day of Action for Stalking Awareness – Thursday, January 18, 2024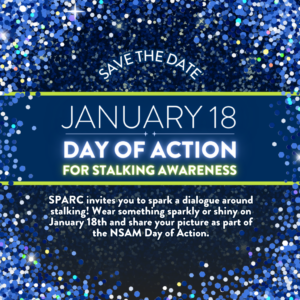 January 18 was chosen as the Stalking Awareness Day of Action to commemorate the murder of Peggy Klinke by her stalker, on this date in 2003. Peggy's sister, Debbie Riddle, is a stalking activist who founded NSAM in honor of her sister. Debbie said, "Peggy had a sparkling personality and would light up a room. As the stalking continued and continued, we saw that shine fade." Learn more about Peggy's story here. On the anniversary of her death, let's bring back the sparkle – for Peggy and for all victims and survivors of stalking. Wear your flashiest, most sparkly clothes and accessories and post a picture to spark a conversation on stalking.
April 2024 – Sexual Assault Awareness Month
Past Events
Know Your IX 2023