What is a "Responsible Employee"? A Responsible Employee is a university employee who has the duty to report incidents of sexual misconduct to the Title IX Coordinator or an employee whom an individual could reasonably believe has this duty. All employees of the university, unless deemed confidential, are considered responsible employees and are required to report actual or suspected sexual misconduct to the Title IX coordinator.
If an employee is unsure whether they are a responsible employee, they are required to contact the Title IX coordinator.
A report to the Title IX coordinator may not automatically initiate a formal investigation. Rather, the purpose of this reporting obligation is to ensure that students and employees are aware of their rights and options to address what they may have experienced, including the ability to obtain advocacy and support services and file a formal complaint.
Before a person reveals information that they may wish to keep confidential, a responsible employee should make every effort to ensure that the person understands their reporting obligation as a mandatory reporter and where to go if they want their information to be kept confidential.
What to Report
When reporting an incident to the Title IX coordinator, a responsible employee must report all of the information that is shared with them, such as the name of the victim-survivor, accused individual, location, and information related to the incident. If this information is not provided by the individual, please do not ask. Only report the information that is shared with you, however little that may be.
Campus Security Authority Reporting
In addition to being responsible employee, certain Marshall employees are also considered Campus Security Authorities ("CSAs"). This is a designation under a different federal law known as the Jeanne Clery Disclosure of Campus Security Policy and Campus Crime Statistics Act ("Clery Act"). CSAs are required to report crimes that are classified as Clery-crimes and hate crimes.
At Marshall, CSAs include but are not limited to campus police, campus security, and individuals with significant responsibility for student and campus (including Student Housing)
Clery crimes include dating violence, dating violence, murder, negligent manslaughter, robbery, aggravated assault, burglary, motor vehicle theft, sex offenses (including sexual assault/rape, fondling, incest, statutory rape) motor vehicle theft, arson, stalking, liquor, drug, and weapons law violations.
Hate crimes are crimes committed because of the individual's race, religion, gender, gender identity, sexual orientation, ethnicity, national origin and/or disability. When reporting a hate crime, the individual should note whether there is evidence that the victim was intentionally selected because of the perpetrator's bias against the victim.
If you are a CSA and need to report a crime that is in progress or just occurred, call 911. If a crime is being reported after the fact, call the MUPD or make a police report in person.
How can I help an individual who tells me they've experienced a Title IX incident?
Individuals who have experienced Title IX incidents often respond in a variety of ways, including anger, sadness, confusion, or withdrawal.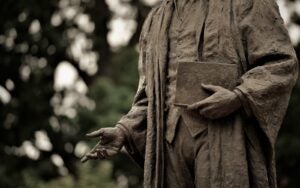 Listen: Give the Complainant your complete attention. Try not to interrupt or discuss your personal history.
Support: Complainants are often met with skepticism or disbelief. Offering nonjudgmental support and acknowledging the feelings of the Complainant can help create a safe space for them to process the next steps.
Refer: You do not have to have all of the answers, and it is not your responsibility to fix the problem or determine what occurred. An important part of being helpful to a Complainant is providing them with information about options and resources. Please refer Complainants to the confidential resources and other options above.
Tell the Complainant: "This was not your fault. You have options."
Make sure the Complainant knows they're not alone.
Share resources available.
Take care of yourself. Get support if you need it.
Say that you know what the Complainant is going through.
Ask questions that suggest blame.
Question whether the Complainant is telling the truth.
Panic. Take a deep breath and focus on the Complainant.
Available Resources