Marshall University now offers an Employee Assistance Program (EAP) through The Standard Health Advocate.  This is your place to find tools to support your mental, emotional, physical and financial well-being. You can browse the extensive library of resources, including articles, videos, forms, locators and more. They offer multiple ways to get connected to therapists, counselors and other tools to help you. View EAP program description.
We want to emphasize that participation in the program is completely confidential and free of cost to the employee. Additional services, above and beyond what's offered in our employer provided package, including referral services may be billed to the individual's insurance policy.
Available Services
Services available include but are not limited to:
Counseling for depression, grief, loss, and emotional well-being.
Family, marital, and other relationship issues.
Life improvement and goal setting.
Addictions such as alcohol and drug abuse.
Stress or anxiety with work or family.
Financial and legal concerns.
Identity theft and fraud resolution.
Online will preparation and other legal documents.
Three (3) telehealth appointments at no cost to the employee with referral services if needed.
24/7 web-based training modules
Eligibility
Those eligible for the EAP are full-time benefits eligible Marshall University Employees, their dependents (including children to age 26) and all household members. This benefit is provided at no cost to the employee.
Connect with an EAP Professional
There are multiple ways to connect to a therapist, counselor, and other tools to help you. They are available 24/7. HR Services will be happy to answer questions and provide further assistance if needed at benefits@marshall.edu.
Please note:
Organization Name – The Standard – EAP – 3 Visits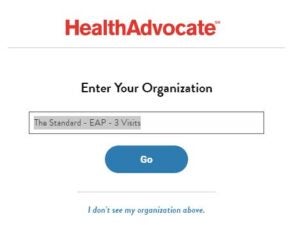 You can also download the mobile app on Apple and on Android
Additional Resources