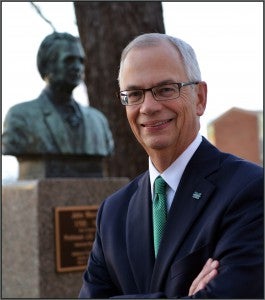 Welcome to MU from President Gilbert!
We are excited to welcome you to Marshall University. This is our on-boarding process to welcome and support employees during their transition to a new position at Marshall. The following information is provided to assist you as you transition to your new position at Marshall. You are encouraged to print the Printable Version to use as a handy reference. For any questions related to the arriving employee process, please contact us by emailing at human-resources@marshall.edu, calling 304-696-6455 or stop by our office at 207 Old Main.
Why is On-boarding Important?
The on-boarding process builds the University's reputation for being a thoughtful employer, with great training, clear leadership, and a strong organization as well as:
Assists in retention of employees
Reduces high turnover
Increases productivity levels quickly
Encourages success for your department and the employee
This guide provides suggestions and best practices for success and begin building a strong connection with your new employee.
Our Goals for New Employee On-Boarding
We want to welcome you and support your "Best Decision EVER" by becoming a "Son or Daughter of Marshall". We will provide you with our knowledge of employment processes and assist with information about any specific needs you may have within your first months of employment.
See the On-boarding duties for your supervisor.