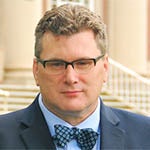 WAEC 2005
304-696-2658
Biography
Bill Gardner is an Assistant Professor at Marshall University, where he teaches information assurance and foundational technology courses in the Department of Forensics. Bill has spent the past four summers teaching making, cybersecurity, fundamental technology, and coding to K-12 students. He spent the past summer teaching Python to middle-high school students with a special emphasis on attaching girls and minorities to STEAM fields.
Bill is a past-president and information security chair at the Appalachian Institute of Digital Evidence. AIDE is a non-profit organization that provides research and training for digital evidence professionals including attorneys, judges, law enforcement officers and information security practitioners in the private sector. Prior to joining the faculty at Marshall, Bill co-founded the SecureWV/Hack3rCon convention and is a co-founded 304geeks, a West Virginia technology networking organization. Bill is an active member of the information security community and has spoken at a number of information security conferences including AIDE, Derbycon, Shmoocon, BSides-Cincy, BSidesCleveland, and BSidesAsheville.
In addition, Bill a co-author of "Building an Information Security Awareness Program: Defending Against Social Engineering and Technical Threats", and "Google Hacking For Penetration Testers".
More information about Bill Gardner can be found at https://www.linkedin.com/in/304blogs.
DFIA 305: Open Source Intelligence
DFIA 357: Network Penetration & Attack
DFIA 454: Network Defense