Institute for Cyber Security
Marshall University's Institute for Cyber Security (ICS) is dedicated to advancing the field of cybersecurity through multidisciplinary research, education, training, and outreach programs. Our Institute brings together scholars and experts from various disciplines to tackle complex cybersecurity challenges from multiple perspectives.
Our programs and initiatives are designed to support the growth and development of the cybersecurity community. Our research projects explore the latest trends and technologies in cybersecurity, our educational programs provide students with hands-on training and real-world experience, and our outreach initiatives engage with industry partners and other stakeholders to address emerging cybersecurity needs.
One of the key strengths of the MU ICS is our focus on collaboration and partnerships. We actively engage with corporate and government organizations to foster a robust and dynamic ecosystem of cybersecurity professionals and researchers. Through these partnerships, we can give our students valuable opportunities to gain real-world experience and apply their knowledge and skills to real-world problems.
If you are interested in joining the growing field of cybersecurity, we invite you to learn more about the Institute for Cyber Security at Marshall University. Our multidisciplinary approach, cutting-edge research, and strong partnerships make us a cybersecurity education and research leader.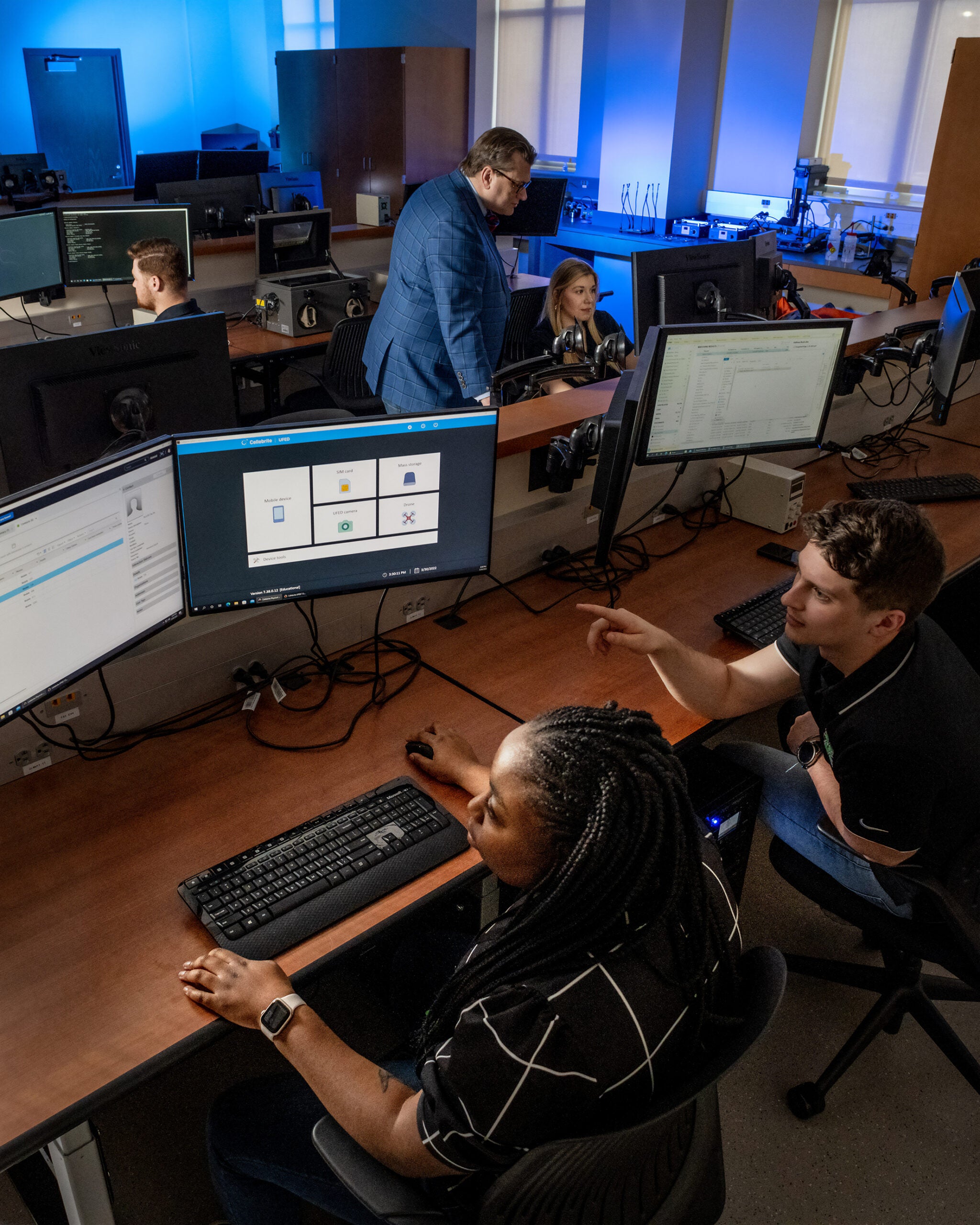 Where are we located?
Classes and offices of the Institute for Cyber Security are located in the Weisberg Family Applied Engineering Complex—a 155,000-square-foot facility that opened in 2015 with the latest technological capabilities. Our programs' majors will find they can gain experience in an advanced laboratory with the latest equipment used in the field around the country—and right here on our campus in West Virginia.
Also known as the WAEC, students will find most of their classes here at 1676 3rd Ave, Huntington, WV 25703.
Interested in our labs and what they offer our students and research? Click the button below to learn more!
Facilities
ICS Organization and Focus Areas
MU ICS will support and manage academic programs that are both interdisciplinary and broad-based. ICS, as a multi-college academic and research cluster, will draw from existing programs and create new content as the field changes. ICS will also be broad-based, meaning that its programs will educate students interested in both fundamental aspects of the field (e.g. hardware and software engineering) and practical (e.g. practitioner-focused) applications.
The MU ICS will specifically identify and recruit academics and researchers to address the research mission. ICS personnel will perform both basic and applied research in response to federal, state, and/or private grant and contract funding mechanisms.
The MU ICS will also serve as a point of contact and liaison between governmental agencies, the business community, the academic community, and students preparing to enter the cyber workforce.
In addition to the activities described under External Relations, Support, and Services, MU ICS will support the business and governmental communities by providing training and certification programs in cyber disciplines.
MU ICS personnel will provide public education and outreach activities outside the focus of its academic and training/certification programs. Some of these activities will be provided as part of the Broader Impacts requirements of federal grants. Other activities will be designed to raise awareness of Marshall University's cyber programs and address diversity, equity, and inclusion shortfalls in cyber professions.