Annual Health and Wellness Fair, Sept 21

---
Our college will host its annual health and wellness fair on Wednesday, September 21 from 10 a.m. – 2 p.m. in the Memorial Student Center plaza. In the case of inclement weather, the health and wellness fair will be held inside the student center's basement in room BE5.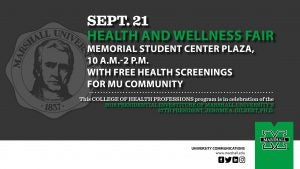 This program is being held in celebration of the 2016 Presidential Investiture for Dr. Jerome Gilbert, Marshall's 37th President.
Schedule of Undergraduate Courses available for South Charleston campus

---
Marshall University has released the full schedule of undergraduate courses that will be available this fall on its South Charleston campus. Learn more here.
More than 1,700 to graduate during May 7 commencement

---
More than 1,700 students will graduate from Marshall University Saturday, May 7. Most will be recognized in a pair of commencement ceremonies that day at the Big Sandy Superstore Arena in downtown Huntington.
For the fifth consecutive year, Marshall will conduct two commencement ceremonies on the same day. The 9 a.m. ceremony is for bachelor's and associate degree candidates, and a 2 p.m. ceremony the same day is for master's and doctoral degree candidates.
Among the 1,703 students receiving degrees are 1,032 undergraduates, 500 graduate students, 75 from the School of Pharmacy, 60 students from the School of Medicine, and 36 from the School of Physical Therapy.
Learn more here.
Athletic Training Concussion Awareness 5K Run/Walk

---
The Marshall University Athletic Training Club is hosting a Concussion Awareness 5k Run/Walk at Ritter Park on April 2nd at 8 a.m.  The proceeds will go to local high schools we use as clinical sites to help improve and off-set cost for concussion evaluation and management tools.  Sign up today!
Link:  http://www.tristateracer.com/event.php?RaceID=8419