WellTrack
WellTrack is an awesome tool that can help with stress management, anxiety, depression, homesickness, tools to cope with stress surrounding the COVID-19 pandemic, and other concerns. Check it out! Information on how to download and get started is below: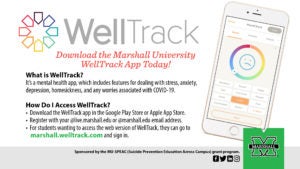 ULifeline
ULifeline is an online anonymous, confidential online resource center specifically for college and university students. Students can find a plethora of information regarding mental health and emotional well-being. To access the anonymous and confidential self-assessment please visit the following site: http://www.ulifeline.org/MarshallU/
Apps
Below is a list of applications that address various mental health and well-being concerns, and can also be utilized as support for self-improvement.
MoodGYM
Pacifica
SAM (Self-Help for Anxiety Management)
A Friend Asks
ReliefLink
LifeBuoy
Virtual Hope Box
Relax Melodies: Sleep and Yoga
PTSD Coach
Self-esteem Blackboard
DBT Self-Help
T2 Mood Tracker
Headspace
Resources
Videos