Register For Counseling!
Once you complete the forms above someone from the MUCC will contact you to get you scheduled for individual counseling.
Make A Referral!
Know a student who is struggling and you'd like us to reach out to them? First, get their permission to make the referral, if possible. If this is a crisis situation, where someone may be in danger of harm, you should instead call our crisis hotline (304-696-3315, listen for options) while you are with them to speak with a crisis counselor. If you are not with them, call MUPD instead (304-696-4357). Once you've submitted a referral, we may contact you for additional information if needed. We will never under any circumstances provide any information to a referral-maker about a student, though. We encourage you to follow-up with the student on your own and allow them to share whatever information they feel comfortable sharing.
Walk-In Appointments are brief, 20- to 25-minute sessions with a counselor or counseling intern. The goal is to address an acute difficulty or problem. Any student may access a Walk-In appointment, even if they have regular counseling sessions. It is recommended that you use the link below to schedule a Walk-In Appointment, but you may also come directly to the office during scheduled Walk-In Hours to see if there are any spots available. Walk-in Appointments are first come, first serve and are available for in person sessions, as well as virtual sessions. Click the link below to schedule an appointment based upon which option you prefer.
Click here to schedule an in-person walk-in session: in person session
Click here to schedule a virtual walk-in session. You will be sent a Teams link for the time you schedule: virtual session
You MUST use the link below that corresponds with your counselor. If you use a different link, your appointment request will be denied. If you wish to switch your counselor, you must discuss this with your current counselor or the center director first.
You MAY NOT use this online-scheduling tool to schedule more than one appointment per two-week period. If your counselor decides you need to be seen more frequently, they will schedule you personally. Additional online-scheduling tool requests beyond the first within any two-week period will be denied.
Not all counselors may offer this online-scheduling tool option.
The Counseling Center is now offering increased services through Mantra Health!
The Marshall University Counseling Center has partnered with Mantra Health, which is a counseling and crisis service for Marshall students. This resource is ideal for online students, out-of-state students, student athletes, students that work full-time, and professional students as the service offers additional therapy and counseling services in the evenings and on weekends. Follow the instructions on the flyer below or contact the counseling center at 304-696-3111 or email counselingcenter@marshall.edu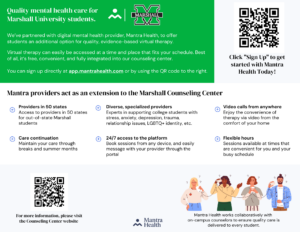 Visit the following link to register for one of the therapy groups or workshops offered during the Spring 2023 semester: https://www.marshall.edu/counseling/therapy-groups-and-workshops/