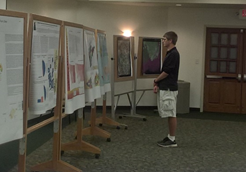 The 2017 GIS Day was another success! Over thirty students from Huntington High School were in attendance to celebrate the occasion and participate in an array of activities. The day started with a welcome message by Dr. Leonard where he discussed the significance of GIS, followed by lab activities with Dr. Kozar. Current geography students also participated by showcasing their cartographic and spatial analytical skills with posters and maps created over at the Sam E. Clagg GIS Lab. The gallery saw the presence of Emiko Hori, a Marshall geography alumni, now working over at the West Virginia Department of Transportation. The Keynote address was delivered by Mack McCarty from the Army Corps of Engineers-Huntington District. Mack introduced students to the different unmanned aerial vehicles (UAVs) that they utilize and to some of the applications and projects that they have carried-out with UAVs. As if this wasn't enough, students then had a blast geocaching landmarks and monuments across campus.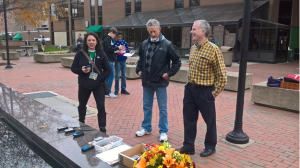 Academic Opportunities
 1) Four years of year-round graduate funding is available to enroll in Ph.D. programs in Geography, Public Policy, Sociology, Environment and Ecology, and Anthropology at the University of North Carolina at Chapel Hill (UNC-CH), beginning August 2018. EPPSA Fellowships include tuition, health insurance, fees, 12-month stipends, funds for research support and travel, and conference funds. Students will be engaged in a large, interdisciplinary project funded by the United States National Science Foundation titled "Confronting Energy
Poverty: Building an Interdisciplinary Evidence Base, Network, and Capacity for Transformative Change" (or "Energy Poverty PIRE in Southern Africa" (EPPSA)). The student is expected to contribute to project execution, travel internationally, and conduct fieldwork in Malawi, Zambia and/or Zimbabwe. S/he will develop their PhD dissertation research focused on population environment dynamics as it pertains to energy poverty, with the exact topic to be developed in consultation with the advisor and project team. Interested students must first apply for admission to a PhD program in one of the participating departments at UNC-CH: Geography, Public Policy, Sociology, Environment and Ecology, or Anthropology. Full graduate school applications to UNC-CH are due December 12, 2017. Further information on EPPSA can be found at: https://eppsa.cpc.unc.edu.
2) The Department of Geosciences at East Tennessee State University offers Master of Science degrees in Geosciences with concentrations in Geospatial Analysis and Paleontology. ETSU Geosciences is currently recruiting one or more graduate students for research in watershed dynamics (Geospatial Analysis concentration). Students may work on planning and assessing watershed restoration efforts, hydrologic modeling for water quality and quantity, and community-university partnerships through citizen-science data collection and other work with local watershed groups. Opportunities for funding are available through one dedicated research assistantship and competitive teaching assistantships. For more information please contact Dr. Ingrid Luffman (luffman@etsu.edu). Students attending the 2017 SEDAAG regional conference in Starkville, MS are encouraged to meet with Dr. Luffman during the conference.
3) Graduate Student Fellowship, University of Maryland Baltimore County. The Department of Geography and Environmental System invites outstanding applicants to apply for our Environment and Society Fellowship. Fellows will receive one year of research support (full tuition and living stipend), along with additional years of full-time support in the form of teaching assistantships. We welcome applicants from across the natural and social sciences. Interested applicants are encouraged to visit our website at ges.umbc.edu to learn more about our department faculty and their diverse research interests. Applicants are strongly encouraged to contact potential mentors prior to applying.
4) Two (2) graduate research assistantships are available that will begin in the Fall 2018 semester in the Department of Geography (www.unr.edu/geography) at the University of Nevada, Reno.  One position is available for a Masters student and the other for a PhD student.  Students with research interests in transportation, energy, and sustainability are encouraged to apply. If interested in either position or if you have further questions please contact Scott Kelley (scottkelley@unr.edu) as soon as possible.  If interested in applying, please send a CV/resume and a 1-2 page cover letter, making sure to specify which project is of interest to you.  Degree programs and requirements can be found at www.unr.edu/degrees/geography.  The deadline to apply for admission to the graduate program in the Department of Geography at the University Of Nevada, Reno is February 1st, 2018, and applications should be submitted to: www.unr.edu/grad/admissions.
Job Opportunities
Here are the most recent job opportunities for our recent and soon to be graduates:
GIS Summer Internship, Arsenal Resources, Wexford, PA
GIS Technician, HMI Technical Solutions, Blue Bell, PA
GIS Field Technician, SAM, Pittsburgh, PA
GIS Analyst, Kentucky Geological Survey, Lexington, KY
GIS Technician, Randstad Engineering, Akron, OH
GIS Mapping, FirstEnergy, Akron, OH
GIS Specialist, UNICONInternational, Inc., Groveport, OH
GIS Project Manager, APC, Cincinnati, OH
Land Survey GIS Technician, GDP Group, Multiple locations
GIS Specialist, Manifest Solutions, Columbus, OH
Should you have any questions about any of these opportunities, do not hesitate to get in contact.
Sincerely,
The Geography Department