This week's news brief comes a bit early on the eve of thanksgiving, but it is for a great reason. It is with great pride that the Geography Department would like to recognize the outstanding performance of Brian O'Keefe in the geography bowl competition at the 72nd meeting of the Southeastern Division of the Association of American Geographers (SEDAAG). Brian placed 8th in the overall competition averaging 10 points per round. On top of this personal achievement, Brian was elected by his team to the "student all-star team" who faced against the "faculty dream team" who included heavy hitters such as Dr. Derek Alderman, current president of the American Association of Geographers (AAG). Brian was the only contestant from the State of West Virginia and was assigned to the Virginia team. In the early team rounds, Brian earned half of the points for his team, which included a stunning performance in two toss-up questions where the team had to provide the city where numerous interstate highways intersected. Brian single-handedly answered correctly every intersection. It garnished a huge round of applause from the audience, which needless to say, was well earned! Keep in mind that the geography bowl contestants included graduate students (master and doctoral), so for Brian to finish 8th as an undergraduate having to face competitors from state flag-ship institutions across the Southeastern United States, make this performance even more impressive. Well done Brian! Not only did you represent the department, but Marshall and the State of West Virginia.
Brian's performance also serves as a great source of inspiration for our current undergraduate and graduate students to participate in future SEDAAG meetings. The conference offers multiple avenues for students to learn, get involved, and present their work (e.g. posters and paper expositions). To encourage the participation of students, the organization holds posters, paper, and photographic competitions, and monetary prizes are awarded in every category. Additionally, field trips are organized by the hosting university to nearby sites of cultural and environmental significance to enhance the learning experience and sense of community among fellow geographers. SEDAAG is the strongest division within the AAG and offers faculty and students the opportunity publish their work in their peer-review journal The Southeastern Geographer, a well-established academic journal soon to receive an impact factor. The next three meetings will be hosted by: Eastern Tennessee University (Johnson City, TN); University of North Carolina-Wilmington (Wilmington, NC); and the University of North Alabama (Florence, AL). Students should start making plans to attend the 2018 meeting at Johnson City, TN. This is a short drive from Huntington, the conference is on a weekend (Saturday through Monday), and registration for the conference is affordable ($75 for students by the early bird deadline). Students should consider doing a poster or paper to showcase their work, or simply attend to participate in the geography bowl and learn from multiple research presentations from experts in their fields. The more students attend, the easier it gets to share the travel expenses, as rooms can be split (on a gender basis) between two to four students, and transportation as a group can be arranged. If you are interested in participating, see Dr. Córdoba for further information.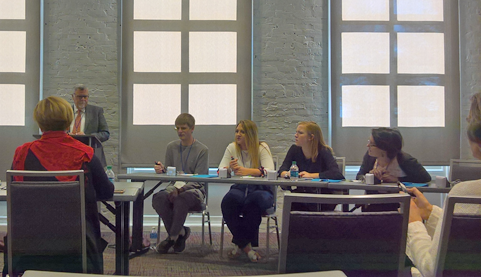 Brian O'Keefe (seated closest to podium)
Academic Opportunities
 1) The Department of Geography and Planning at the University at Albany has begun offering a Master of Science in Geographic Information Science (MSGIS) and is now accepting applications for the Fall 2018 semester. The 36-credit program is divided into an 18-credit core, a 3-credit capstone course, and 15 credits of electives. Their GIS faculty members include 4 experts in their respective fields:
· Dr. Alexander Buyantuev–remote sensing technology and its application to environmental issues,
· Dr. Shiguo Jiang, the use of spatial statistics for environmental analysis,
· Dr. Rui Li-mapping and navigation, and
· Dr. James Mower-algorithm development for augmented reality and landscape rendering applications.
Because of their location in New York State's Capital Region, students participating in the MSGIS program will have the unique opportunity to access a wide array of internship offerings, including those with public and private sector offices and agencies.
Their faculty would be happy to discuss the MSGIS with you by email (best), by phone, or during a visit to the Department.
2) Funding opportunities exist for students who want to pursue doctoral degree in the following fields: study of complex systems (e.g., using agent-based modeling and statistical modeling) including complex human-environment systems, space-time analysis and modeling, human-environment interaction and landscape ecology, and land use and land cover change. Extramural projects and the joint doctoral program between the Department of Geography at SDSU and the Department of Geography at University of California, Santa Barbara provide funding to support a number of doctoral students each year. The admission and financial support are competitive–please contact Dr. An at lan@mail.sdsu.edu before you send your application.
3) The Institute of Geography and Sustainability (IGD) seeks to fill the position of PhD student/Graduate Assistant in Global Urbanism, for a maximum period of 5 years. The position is part of the research team M3 (Materialities | Multiplicities | Metropolis), led by Professor Martin Miller. The Institute of Geography and Sustainability (IGD) is an interdisciplinary community of about 100 academics that work on space, place and the environment. With 15 professors and close to 40 PhD students, the department offers a vibrant, stimulating environment for cutting-edge research. It hosts regular lecture series and distinguished guest researchers from around the world. The post is located in the research group Urban Studies, the largest of the institute's six groups.
Additional information:
– Professor Martin Miller: www.martin-muller.net
– Research team M3: http://igd.unil.ch/martin.muller/en/M3/
– Research group Urban Studies: http://unil.ch/igd/home/menuguid/english/research/urban-studies.html
Application Deadline : 1/14/18
Job Opportunities
Here are the most recent job opportunities for our recent and soon to be graduates:
GIS Cooperative Education & Internship, Langan Engineering, Pittsburgh, PA
Entry Level GIS Specialist, AECOM, Cincinnati, OH
GIS Analyst, Arlington County, Arlington, VA
Geospatial Specialist in Emergency Management, FEMA, Washington, D.C.
GIS Administrative Technician, City of Lima, Lima, OH
Should you have any questions about any of these opportunities, do not hesitate to get in contact.
Sincerely,
The Geography Department