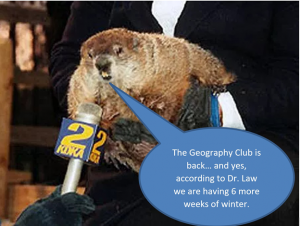 Punxsutawney Phil- Dr. Law's prediction instrument
Attention geography majors, the Marshall University Geography Club will be hosting its first meeting on Wednesday, February 14th at 2:30PM in HH 237. The Geography Department kindly asks all its students (grad and undergrad) and faculty to attend the meeting. The department will be going over the club's purpose and it is looking to recruit candidates for officer positions. The Geography Club is an essential and unique entity of every geography department, but in order to function it needs the active support and participation of the student body. Although the geography faculty plays a supervisory and advisory role, the club is for the students, and run by students. Here is a sample of the different activities that can be undertaken by the club:
·        Explore – Fieldtrips to both, cultural destinations or natural environments.
·        Network – Organize social gatherings to build a sense of community among fellow geographers, but also develop a support and contact network.
·        Develop – Attend yearly academic conferences to share your work with other geographers, but also to learn from their work as well. Conferences are a great way also to develop your network and stay up to date with changes in the field of geography.
·        Learn – Workshops can be organized on variety of different topics (e.g., professional development, GIS techniques, fieldwork, statistics, etc.)
·        Fun – Of course you have a club also to have fun. You can organize geography bowls, picnics, happy hours, and many other activities that pick your interest.
This is only sample and the opportunities are endless. What it should be clear however, is that the club is there to benefit students and to enhance your experience while you earn your geography degree. Please mark your calendar and make the time to attend.
Academic Opportunities
1) Student Paper Competition- The Ethnic Geography Specialty Group
Students who have completed a research paper to present at the 2018 AAG are eligible to submit their research paper for adjudication in this competition. The EGSG Student Paper Committee will evaluate all submissions based on written clarity, methodological rigor, and overall contribution to ethnic geography scholarship. The winner will receive a $250 prize, a certificate, a ticket to the AAG Award Luncheon, and formal recognition at the banquet and in the EGSG Newsletter. If there is a tie between two papers/students, the prize may be equally distributed among the co-winners.
Paper submissions must be based on original research completed as an undergraduate or graduate student and must adhere to following:
To be considered for the award, students must present their research at the 2018 Annual Meeting of the AAG. Participants are strongly encouraged to attend the EGSG business meeting, and become active in EGSG student committee activities.
The topic must be on some aspect of Ethnic Geography.
The text portion should be double-spaced and not exceed the twenty pages and the total length should not exceed thirty pages.
Papers co-authored with faculty will not be considered for student award. Papers authored by multiple students, however, are acceptable, and if multi-students authored papers are the winners, the total prize award may be distributed among the co-authors.
The paper must be sent to Jay L. Newberry (Student Paper Award Committee Chair) by e-mail. If there are essential graphics which cannot be sent by e-mail, the author may send the graphic by mail.
The paper must be received no later than March 10th, 2018.
The paper will be judge by the committee members on: written clarity, methodological soundness, contribution to scholarship in ethnic geography, and overall effectiveness. The paper presentation at the conference will not be considered in the scoring.
For further information, please contact Jay L. Newberry by e-mail: jnewber@binghamton.edu.
2) Student Paper Competition – The Media and Communication Specialty Group
The Media & Communication Geography Specialty Group will be awarding two paper prizes to student participants at the 2018 AAG meeting in New Orleans. There is a $100 first prize and a $50 runner-up. To qualify for consideration, papers must address geographical aspects of media & communication or mediatized and communicational aspects of geography. This includes studies of particular films, television programs, websites, or video games as well as particular genres of media such as comedy, horror, or the news. It also includes studies of ways that media are incorporated into the spaces and places of daily life and media-induced transformations of the meanings of public and private. Studies of communication infrastructure, either fixed or mobile, are appropriate, as well as studies of unevenness or gaps in communication infrastructure.
Papers must be sole-authored by currently-enrolled undergraduate or graduate students. Papers must be submitted by e-mail in completed form by March 10, 2018.
Details:
The judging will be performed by a panel of recognized geographers with expertise in various aspects of communication geography. Papers will be judged on the basis of appropriateness, clarity, originality and potential for publication. Formatting should be suitable for an intended journal such as the Annals of the AAG, Geographical Review, Professional Geographer, Environment and Planning D, Political Geography, or another refereed journal. Length must be between 5,000 and 10,000 words. The author's name and contact information should be on a cover page that can be removed, and must not be indicated in the body of the paper, in order to facilitate the blind review process. Submit as a pdf file or a Word document. If using Word, figures should be separate files (please do not embed images and do not exceed 1 megabyte per image). Winners will be announced at the Media & Communication Geography Annual Keynote Address at the New Orleans meeting on April 12, 2018 at 3:20 pm.
E-mail submissions by March 10, 2018 to: laurasharp@email.arizona.edu
3) PhD Assistantship at UNC Charlotte
The UNC Charlotte Department of Geography and Earth Sciences is accepting applications for a Doctoral Graduate Assistant to work on a National Science Foundation (NSF)-funded study entitled Rail Transit, Residential Mobility, and Income Segregation. The purpose of this research is to investigate the role that public investments in rail transit play in shaping urban income segregation. This mixed-methods study asks the following research questions: (1) Are low income residents more likely to move out of neighborhoods following the placement of a new transit station than other residents? (2) Do they then relocate to neighborhoods of a lower socioeconomic composition? and (3) What are the motivating factors that drive re-location decisions both into and out of transit neighborhoods? Finally, to measure how these individual level behaviors ultimately shape economic segregation, we assess (4) where and for which income groups have residential economic segregation trends changed since the new transit system was put into place? The project will generate knowledge that will inform key debates surrounding transit-induced gentrification and displacement, the causes of rising levels of urban income segregation, and will serve as a platform for linking local residents with city officials in identifying policy solutions to the findings.
Graduate Assistant responsibilities include:
➢ Attending regular meetings with the study principal investigators (Drs. Elizabeth Delmelle, Isabelle Nilsson and Claire Schuch).
➢ Acting as the Teaching Assistant for the Applied Research in Geography course associated with this study.
➢ Recruiting survey, interview and focus group participants.
➢ Conducting, entering and analyzing survey, interview and focus group data.
➢ Engaging and building relationships with community partners.
➢ Other duties as assigned.
Qualifications:
➢ Admission into the UNC Charlotte Geography PhD program.
➢ A high degree of independent thinking, excellent organizational skills, and ability to work as a member of a team are important.
➢ Community-based and qualitative research knowledge and experience desired.
➢ Knowledge of urban inequalities and/or urban planning desired.
➢ Community service experience in underserved communities desired.
Compensation:
This is a 9-month contract for 20hrs/week at $21,000/year, starting in the Fall of 2018. In addition, tuition is fully covered. Funding is guaranteed for two years and likely to continue contingent on satisfactory performance and university funds.
Application:
Please send resume or vitae, a letter of interest, and contact information of three references to Dr. Claire Schuch (jschuch1@uncc.edu) and Elizabeth Delmelle (edelmell@uncc.edu) by February 15, 2018.
4) Field Study Award – The Conference of Latin Americanist Geographers
The Conference of Latin Americanist Geographers (CLAG) invites applications for the 2018 CLAG Student Field Study Awards. Each year CLAG confers named awards at the Ph.D. level (Bernard Nietschmann, Robert C. West, and James J. Parsons awards) and at the master's level (Clarissa Kimber, William M. Denevan, and Oscar Horst awards).
Applicants should expect awards to be around $1,000 for MA/MS applicants and around $1,500 for PhD applicants. These awards are intended to support graduate student members of CLAG in their thesis or dissertation research in Latin America or concerning the Latin American diaspora. The awards are not intended to cover all fieldwork costs, but rather to assist students working towards the Master's or Ph.D. in their field and/or archival research in Latin America.
Eligibility:
Members of CLAG before the application deadline;
Registered as a graduate (M.A., M.S., or Ph.D.) student in a geography department or related discipline;
Regional area of research in Latin America, including the Caribbean, is given priority. If the regional area of research is outside of Latin America, a clear justification of how the study relates to dynamics in Latin America must be provided. CLAG Field Study Awards are for field and archival research, not for attendance at academic meetings;
Recipients of previous CLAG Field Study Awards are ineligible to apply with the exception that previous winners at the Master's level may apply for the Ph.D. level award if they are enrolled in a Ph.D. program;
Fieldwork must be conducted during the dates in the proposal. Any proposed significant changes must be reported to the CLAG Chair;
All awardees must provide a home address;
US awardees must supply a US social security number to the CLAG Treasurer before receiving the award (this is necessary for CLAG to comply with IRS reporting obligations).
Guidelines
Proposals will be evaluated on criteria including but not limited to the following:
Quality of the proposal (coherent research question; clearly described and viable research design research question situated in relevant theoretical or conceptual literature; viable research timeline; feasibility of the proposed work; adequate preparation demonstrated; academic rigor; potential contribution to Latin American geography);
Other funding sources available to students to support fieldwork.
A selection committee will review all applications and make a recommendation to the CLAG chair. Awardees will be notified by April 10, 2018. The award winners will be recognized at the 2018 CLAG-LASG Business Meeting at the AAG Annual Meeting in New Orleans and on the CLAG website.
All applications should be submitted via email to Christian Brannstrom (cbrannst@geos.tamu.edu) no later than March 16, 2018 as a single document that includes the following items: 1) the applicant cover sheet (appended below), 2) the fieldwork proposal narrative, 3) Curriculum Vitae (maximum 2 pages). A letter of support should be sent separately, directly from the recommender. Please save the file as "YourLastName_ CLAG_2018_Field". Email subject line should indicate "CLAG 2018 Field Study Award Application".
Job Opportunities
GIS Analyst, Northeast Natural Energy LLC, Morgantown, WV. Send resume to  hr@suttlecpas.com
GIS Technician, State of West Virginia, Charleston, WV
GIS Analyst, CBRE, Conshohocken, PA
GIS Intern, Air Products and Chemicals, Inc., Allentown, PA
GIS Analyst, Allegis Group Company, Wexford, PA
Site Selection Analyst, VIOC, Lexington-Fayette, KY
Crime Analyst, City of Louisville, Louisville, KY
Cartographic Analyst, PAR Government Systems, Springfield, VA
Cartographic Apprentice, Leidos, Springfield, VA
Spatial Coordinator, Conservation International, Arlington, VA
Remote Sensing Intern, OGSystems, Chantilly, VA
GIS Technician, Randstad, Akron, OH
GIS Technician, National Computing Group, Akron, OH
GIS Analyst, Prime AE, Columbus, OH
Should you have any questions about any of these opportunities, do not hesitate to get in contact.
Sincerely,
The Geography Department