Another success for GIS Day
The 2018 GIS Day was hosted once again by the Geography Department, and this time we had the support of the Department of Natural Resources & the Environment. High school students were in attendance to celebrate the occasion and participate in an array of activities coordinated by Dr. Leonard. The day started with a welcome message, followed by mapping activities in the lab, a drone demonstration by Professor Megan Click from Mountwest Community & Technical College (and Marshall geography alumnus 2015), who also delivered the keynote address where she discussed the significance of GIS and the applications of drone technology. Marshall geography students also participated by showcasing their cartographic and spatial analytical skills with posters and maps created in the Sam E. Clagg GIS Lab. The top map prize for this year went to Ian English for his map of multiple sclerosis. The gallery saw the presence of the university provost – Dr. Taylor, and many students and faculty members across campus. Of course, GIS Day could not be completed without a good round of competitive geocaching where the first three explorers to successfully identify the landmarks earned gift cards, and the top winner went home with a brand new GPS unit!! Here are some of the pictures from the day's activities, and we sincerely hope that you will be able to join us next year.
Reception tables for GIS Day 2018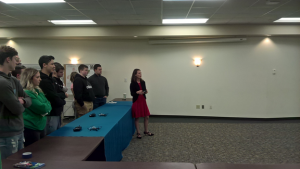 Professor Click from Mountwest Community & Technical College doing a flight demonstration for the students in attendance.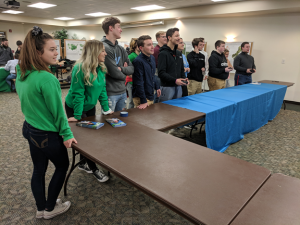 High school students flying drones after flight demonstration.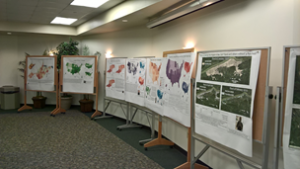 Poster presented at GIS Day 2018 from Dr. Leonard's Principles of GIS class.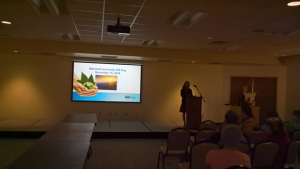 Professor Click delivering the keynote address for GIS Day 2018
Job Opportunities
GIS Analyst, City of Sidney, Sidney, OH
GIS Analyst, Jacobs, Cincinnati, OH
GIS Analyst, City of Worthington, Worthington, OH
Emergency Management Specialist, Federal Emergency Management Agency, Philadelphia, PA
GIS Analyst, OpenArc, Pittsburgh, PA
GIS Technician, Gateway Engineers, Pittsburgh, PA
GIS Analyst, Timmons Group, Inc., Raleigh, NC
GIS Remote Sensing Intern, Dewberry Engineers, Inc., Fairfax, VA
GIS Technician II, Fairfax Water, Fairfax, VA
Human Geographer, Quantico Group, Quantico, VA
Geospatial Associates, Leidos Holdings, Alexandria, VA
Should you have any questions about any of these opportunities, do not hesitate to get in contact.
Sincerely,
The Geography Department