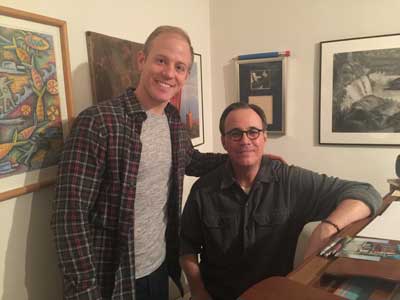 St. Albans native and Off-Broadway vocalist Sean Watkins returns to West Virginia, this time to Joan C. Edwards Performing Arts Center, at 7:30 p.m. Saturday, Feb. 11. A headliner in Broadway Showstoppers last May, Watkins will share the stage with acclaimed New York City performer, composer and lyricist John Bucchino in an evening featuring intimate character ballads, contemporary jazz and musical theatre.
Bucchino's songs have been performed and recorded by Art Garfunkel, Judy Collins, Liza Minnelli, Patti LuPone, Kristin Chenoweth, Brian Stokes Mitchell, Audra McDonald, Barbara Cook, Michael Feinstein, Yo-Yo Ma, Deborah Voigt and Nathan Gunn, as well as the Boston Pops, the Los Angeles Philharmonic and the Mormon Tabernacle Choir. Bucchino has composed memorable songs for countless musicals, including "It's Only Life," and the DreamWorks animated film "Joseph: King of Dreams." In 2008, he was nominated for the distinguished Drama Desk Award in both Outstanding Lyrics and Outstanding Music for his Broadway musical, "A Catered Affair." Bucchino is featured on eight albums showcasing his own original songbook and his musicals as, well as the music of the Beatles and Richard Rodgers.
Watkins has enjoyed a song-and-dance career both in New York City and on stages throughout the United States. After graduating from Marshall University with degrees in both theatre performance and Spanish, Watkins thrilled audiences in the First National Tour of the Tony-Winning musical, "Anything Goes." Off Broadway, Watkins starred as Gene Kelly in "'SWonderful."
"I am ecstatic to be back at the Joan C. Edwards Playhouse!," Watkins said. "It was where I honed my craft during my tenure at Marshall University under the guidance of some incredible professors, and I hope to make both them and the university proud."
Tickets for an evening of Bucchino's diverse songbook, including "Better Than I" and "Grateful," may be purchased at JohnMcAlisterProductions.com or by calling the JMP Box Office at 888-453-ARTS.
———————-
Photo: Marshall alumnus Sean Watkins (left) will sing the music of John Bucchino (right) in Huntington Saturday, Feb. 11.