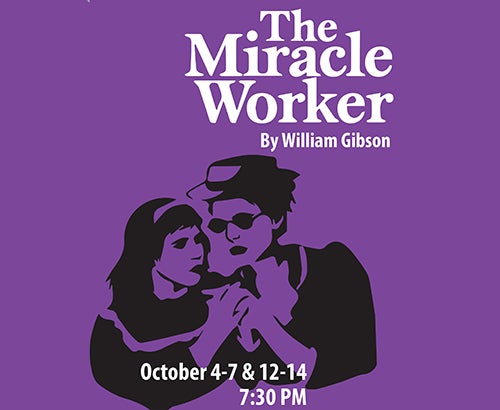 Marshall University's 2017-2018 theatre season will begin with "The Miracle Worker" by William Gibson. The opening show will play at 7:30 p.m. nightly Wedneday, Oct. 4, to Saturday, Oct. 7, and Wednesday, Oct. 11 to Saturday, Oct. 14, in the Francis-Booth Experimental Theatre in the Joan C. Edwards Performing Arts Center on Marshall's Huntington campus.
The play, which is adapted from Helen Keller's autobiography, "The Story of my Life," won Gibson the Tony Award for Best Play in 1960. This classic tells the story of Annie Sullivan and her student, blind and mute Keller. "The Miracle Worker" dramatizes the volatile relationship between the lonely teacher and her charge.
Trapped in a secret, silent world and unable to communicate, Keller is violent, spoiled, almost sub-human and treated by her family as such. Only Sullivan realizes that there is a mind and spirit waiting to be rescued from the dark, tortured silence. With scenes of intense physical and emotional dynamism, Sullivan's success with Keller finally comes with the utterance of a single, glorious word: "water."
Tickets range from $7 to $20. Marshall students are admitted with a valid MUID. For information, call 304-696-2787.