Quick Guide for Faculty
Getting Started
Student learning outcomes for the baccalaureate degree profile can be found on the button below. Click the logo for each outcome to see trait descriptions.
See Baccalaureate Degree Profile Outcomes
Step 1
In the Assignment Content window, be sure to enter instructions that provide detailed information so that both the students and randomly assigned assessors have a complete understanding of what you asked your students to do.
Note:
Instructions that appear outside of the assignment will not be visible to assessors, detrimentally impacting assessment.
It is beneficial to reviewers if you include a note in the assignment instructions with the rationale for how that particular outcome aligns to your artifact.

Step 2
Go to any ASSIGNMENT you wish to align to outcomes. In the ASSIGNMENT SETTINGS menu (right margin), click the GEAR icon.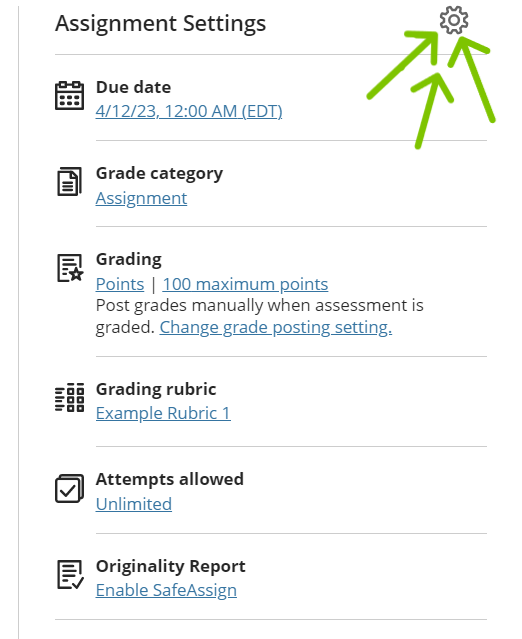 Scroll down to the bottom to select GOALS & STANDARDS under Additional Tools.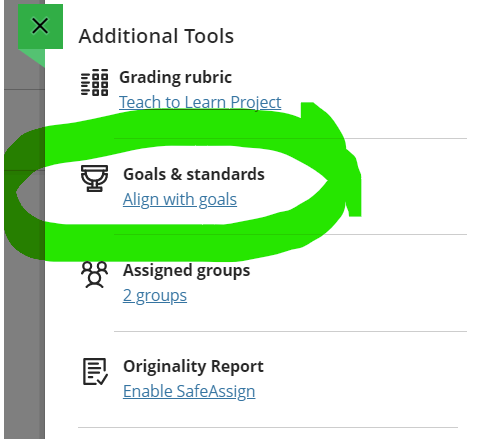 Step 3
You will now see the BROWSE CRITERIA menu, Select GENERAL EDUCATION for GOAL SET TYPE.  Select BACCALUREATE DEGREE PROFILE for CATEGORY. This will narrow the CRITERIA SUMMARY at the bottom of the page.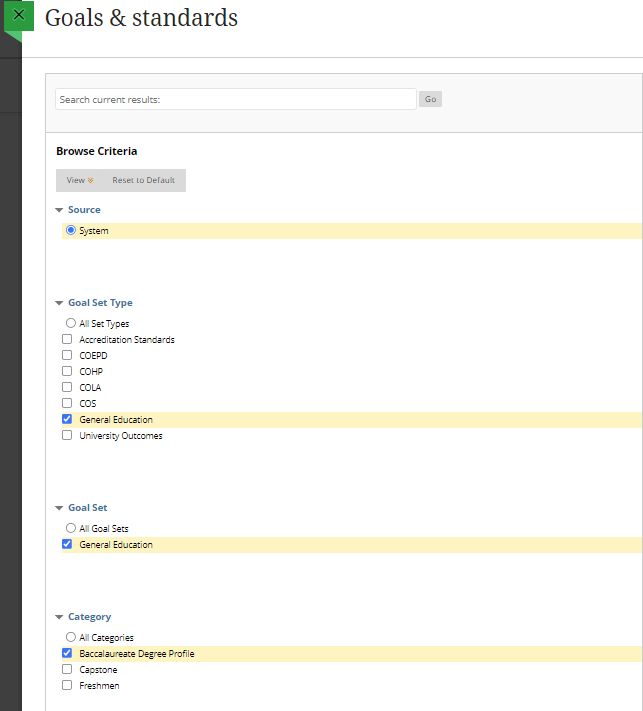 Step 4
Under CRITERIA SUMMARY, select which outcomes to align and click SUBMIT in the bottom right corner.
Success! Your outcomes will now be visible in the right-menu.
Note: You can align multiple goals to an assignment, but for the purpose of General Education assessment we recommend that you select only the learning outcome/goal that you feel best fits your assignment – what was previously known as a "primary learning outcome."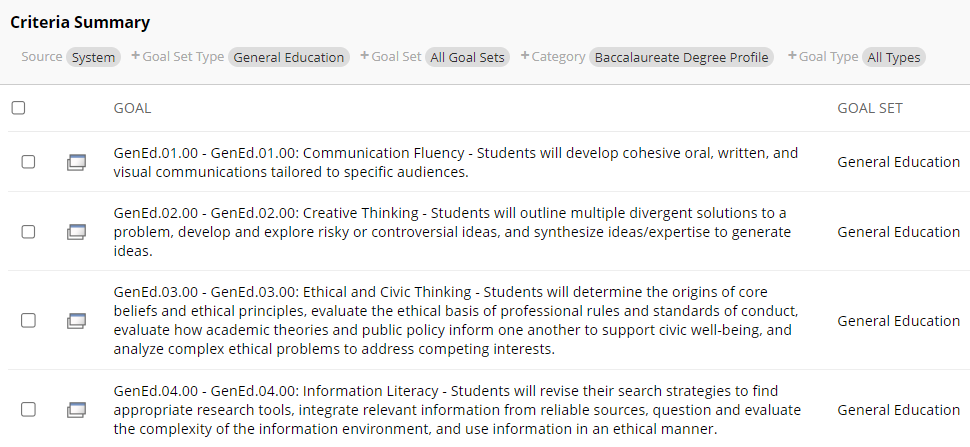 Contact Information for Questions
General Education assessment is conducted through the Assessment Office in Academic Affairs.
Questions regarding assessment practices and policies please direct to:
Dr. Mary Beth Reynolds
Assoc. VP for Assessment & Quality Initiatives
reynoldm@marshall.edu
304-696-2987